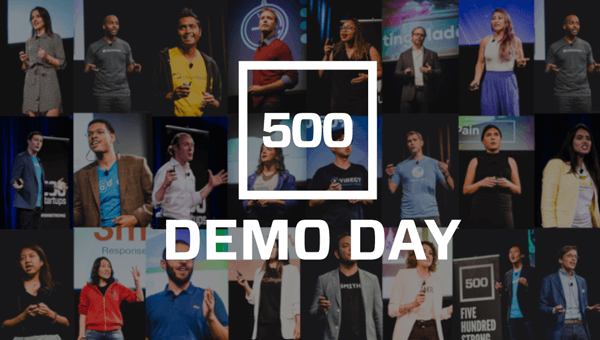 Today, 500 Startups hosts their Demo Day for Batch 17 in Mountain View. The companies will be pitching their products to an audience of VCs, Angel Investors, and decision makers at large tech companies, in hopes of closing their next round of funding. This batch of companies includes products ranging from built to order container homes, a mobile styling app, and bamboo-based baby clothing to a weekly car refueling service, birth control refill delivery, a 'green funeral' suit, and much more. We ranked this batch of 500 Startups companies and found the following 20 out of 42, with the highest Mattermark Growth Score. 11 of 500 Startups' Series A portfolio companies will also demo today, and we've listed the top 8. (Scroll to the bottom to watch the Demo Day via Livestream)
20 Fastest Growing 500 Startups Batch 17 Companies
Blavity

 is a media company and platform focused on multi-cultural creators and influencers. Blavity's platform lets you create content, share your ideas and connect with other millennials who are pushing culture forward.

Mattermark Growth Score:

730

.

Montainer provides built to order container homes, designed, permitted, delivered and installed on your site. Mattermark Growth Score: 425.
Blurbiz is a SaaS platform for media companies to create, distribute and monetize vertical videos. Mattermark Growth Score: 401.
Oddup helps you make an informed investment decision with data, rating and a viewpoint to get the best odds of investing in the right startup. Mattermark Growth Score: 263.
Cladwell is a styling app that helps millennials buy less clothing. Mattermark Growth Score: 248.
MORI produces essential baby-wear and clothing made from natural bamboo and organic cotton for your newborn, including baby grows, bodysuits, sleeping bags, bibs and towels. Mattermark Growth Score: 238.
LiveCanary empowers mobile feedback at scale, in order to prioritize and enhance your product and marketing efforts. Mattermark Growth Score: 227.
FuelPanda is a service that refuels your car weekly, while it's is parked at work. Mattermark Growth Score: 223.
The Pill Club is a birth control delivery service that automatically sends you refills for free. Mattermark Growth Score: 221.
Parkbench is a real estate marketing SaaS product that helps realtors build their online presence and brand. Mattermark Growth Score: 210.
Stylect is a mobile-first online shop fully dedicated to women's shoes. Their technology aggregates shoes from 100+ retailers and users can swipe through them in an addictive, Tinder-style interface. Mattermark Growth Score: 180.
ConceptDrop is an on-demand graphic design service for marketing material. Mattermark Growth Score: 186.
SidelineSwap makes it easy for athletes to buy, sell, and trade sports gear online. Mattermark Growth Score: 179.
Tallyfy is a SaaS product that helps companies of all sizes finally make processes like client-onboarding, SOP's and guided compliance checks more transparent, consistent and efficient. Mattermark Growth Score: 150.
Pair uses augmented reality to let users view virtual products in their home or office like they already exist. Mattermark Growth Score: 144.
Cognitive Operational Systems (COSY) uses advanced artificial intelligence (AI) and computer vision to enable mobile devices to accurately position themselves indoors, enabling use cases that GPS can't achieve. COSY enables Walgreens and other retailers to use its software via commercially available robots to survey inventory autonomously overnight. Mattermark Growth Score: 130.
Coeio is the maker of the Infinity Burial Suit for Humans and Pets. Their products allow for a completely green funeral by leaving zero footprint. Mattermark Growth Score: 113.
Baby2Body helps nearly and new moms to be happy and healthy and have healthier babies, by delivering daily actionable insights and advice on fitness, nutrition, wellbeing and beauty. Mattermark Growth Score: 106.
Nice is reinventing video shopping for your mobile – the first crowdsourced video shopping network built for millennials. Mattermark Growth Score: 102.
Slang is a community marketplace for Generation Z (the 80M Americans under age 21). They empower the 13-24 year-old urban demographic to securely buy and sell from their mobile device, starting with shows as their first market. Mattermark Growth Score: 102.
Bonus: The Top 8 500 Startups Series A Portfolio Companies at Today's Demo Day:
Watch the 500 Startups Demo Day, Batch 17 – LIVE:
Where are these companies located?
How much funding do these companies have?
What is the average headcount at these companies?
How are these companies performing vs. similar companies?
For answers and more in-depth analysis, sign up for a free trial of Mattermark Pro. 
Image Credit: 500 Startups
Join

thousands of business professionals

reading the

Mattermark Daily newsletter.

A daily digest of timely, must-read

posts by investors and operators.