Editor's Morning Note: Microsoft's Big Ass Wall Computer is selling well. Let's run the numbers.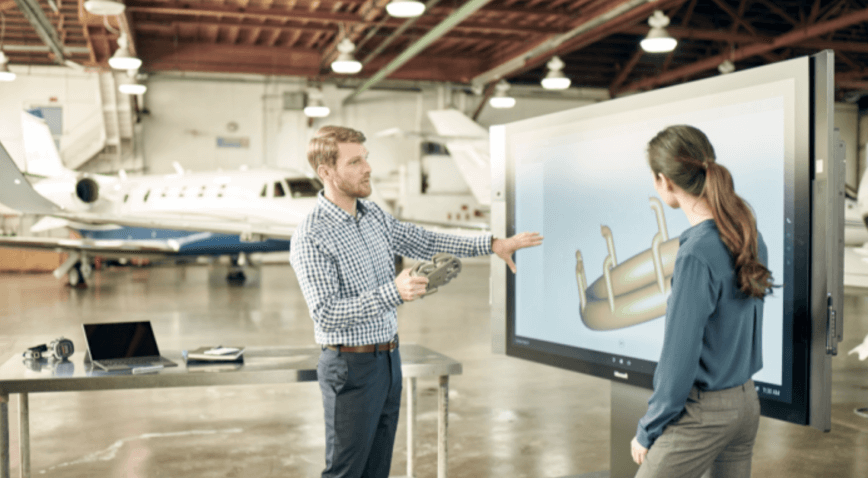 "As you can see here, I can't afford the jet I am posing in front of."
Microsoft's wall-mounted Surface Hub line of computers is selling well, the company recently announced.
The machines, which can run over $20,000 for a larger model, were a gamble. Microsoft had to tool up a factory, lean on technology it purchased, and sell its Windows 10 vision all at once. Even slipped release dates didn't seem to dent the Surface Hub.
But is it a billion dollar business? Someone thinks so. Let's investigate.
How Well?
Today, we will lean on Ars Technica's Peter Bright, as he's both better written and more British than me.
In a piece on Surface Hub's success, Bright notes that "[t]here were initial signs of strong demand" for the devices, including a delayed release cadence. Bright also notes that Microsoft "predict[ed] that companies adopting Surface Hub would buy five to 20 of the machines."
According to Microsoft, the number is actually 50. That's a material difference.
Billions?
Now, to the numbers! Here's Bright breaking down what we know about Surface Hub sales:

As you can imagine, we need pricing. One more Bright highlight concerning market demand will get us there: "The company also hiked the price of both models by $2,000, to $8,999 and $21,999—another move suggesting that demand was healthy."
That gives us have the following numbers:
2,000 customers by year-end.
50 per customer is about normal.
One order was huge.
The damn things cost nine large, or 22 flat.
As you can sum on your own, 2,000 customers at 50 per is 100,000 units. Keeping the lowest SKU in mind, Microsoft would expect to generate $900 million in top line from Surface Hub from its 2,000 customers. As the Surface Hub started to ship this year, that figure is its 2016 result.
Now, skew our SKU mix higher end to 25 percent the higher-end model, and 75 percent the smaller installation. That bangs out to $1.225 billion. That is, you will note, more than a billion dollars.
—
As I've written here and there, a business inside of Microsoft comes of age when it crosses the billion-dollar revenue mark. Less than that and the business group just isn't materially revenue accretive. This applies for all giants, of course. Put another way, once something breaks the 100 basis point threshold, in terms of aggregate yearly revenue, Microsoft gives a shit.
Surface Hub is now there.
Join

thousands of business professionals

reading the

Mattermark Daily newsletter.

A daily digest of timely, must-read

posts by investors and operators.