Founders reading this post, before you go spend more money than you are already spending please note key context here is that not only do we make significant revenue for our stage, we have an annual growth rate that exceeds 100% YoY. Without these attributes to your business, spending money in this way could be dangerous or deadly. We strongly urge you to consult your investors, advisors, and cofounders about these decisions.
---
Mattermark is not a profitable company, we are a venture-backed company that runs at a loss like the majority of early stage startups. We are very transparent about how we are running the company, making decisions, and sharing our journey of the past two years, from $0 of revenue to more than $200K in monthly recurring revenue. When I started sharing financial information about the company I wasn't sure what would happen. Some people were critical, but ultimately it has led to more sharing and we've learned so much by being a part of the conversation.
We've shared a high level overview of our revenues, expenses, growth rates, and burn rate several times now but this isn't enough. Founders write in asking what specifically we spend money on, to help them sanity check their own expenses. While the tech press tease startups for expensive office chairs and video games, and chastise them for not having good enough healthcare or proper parental leave, the reality is that most of these writers have no idea what it takes to run a company. Enough of these unhelpful scolds, it's time for something a bit more useful.
---
Each month, we look at the change to our bank balance and ask, "was it greater or less than $400K? And if it was greater, why?" We dive into more of how we think about burn in Important Financial Indicators for Startups at Every Stage of Growth. In the graph below, you can see that our monthly burn rate was around $420K.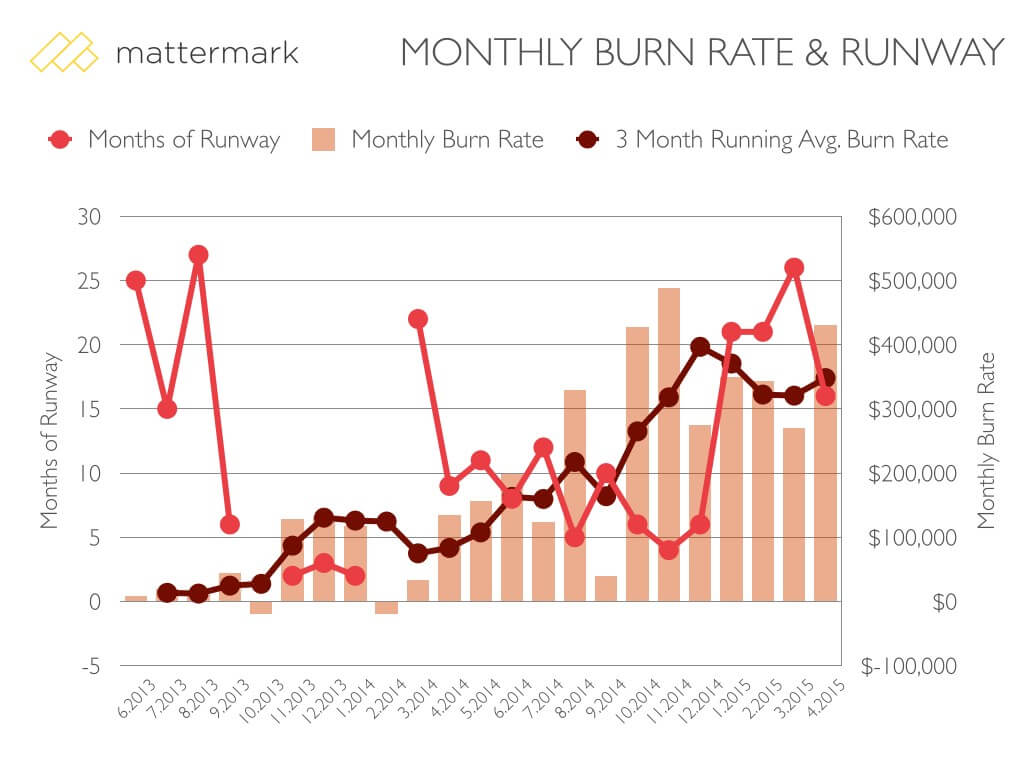 In June, our burn rate was $420K.
In June we collected $293K of bookings revenue and spent $713K.
Another way to express this is to say we covered 41% of our June expenses with cash collected, and money raised from investors covered the other 59%.
Let's make it more real. Where does the money go each month?
$525K for 43 headcount. This includes salaries, payroll tax, full coverage of medical/dental premiums, bonuses, commissions, PTO, and severance expenses.
$45K for 11,000 RSF of office space in San Francisco
$30K for COGS (servers, data licensing, payment processing etc.)
$25K in marketing expenses (marketing experiments)
$25K for stuff to "get work done" like office supplies & SaaS software tools (laptops, CRM software, marketing automation software, telecom, food/drinks)
$25K for outside services (recruiter fees, HR training, payroll, and accounting)
$14K for travel (sales calls, board meetings, our Seattle office)
$14K for legal (we pay this once a year, but accrue monies for the annual bill)
$10K for facilities (garbage, water, electricity, janitorial, etc.)
---
A couple things that I thought I'd highlight:
Salaries: We get compensation comps from our investors, sister portfolio companies, and widely available survey data. This has been one of the biggest value-adds of working with Andreessen Horowitz, and also a big benefit of the YC network and Foundry Group family of companies.
Computers: We get everyone a new laptop, and Apple has an excellent business leasing program. Many investors also have discount programs.
Chairs: We have been buying the same awesome $80 IKEA chairs for 2 years.
Snacks: We spend ~$100/month per employee on snacks, coffee, and order in catered lunch once a week for our "lunch and learn" series of talks.
Perks: We spend ~$600/month per employee on full coverage of medical/dental premiums (and 50% for dependents). I am also very proud of our 12 weeks of paid family leave for men and women, early exercise on stock options for all employees, and 4 weeks of vacation. (Oh hey, we're hiring!)
Looking for more information on operating expenses of startups? Check out this awesomely transparent overview from the team at Buffer.
Is your startup openly sharing your financials, operating expenses or other information that can help founders make better decisions? Tweet to us @Mattermark and we'll update this post with a link to more resources.
Join

thousands of business professionals

reading the

Mattermark Daily newsletter.

A daily digest of timely, must-read

posts by investors and operators.