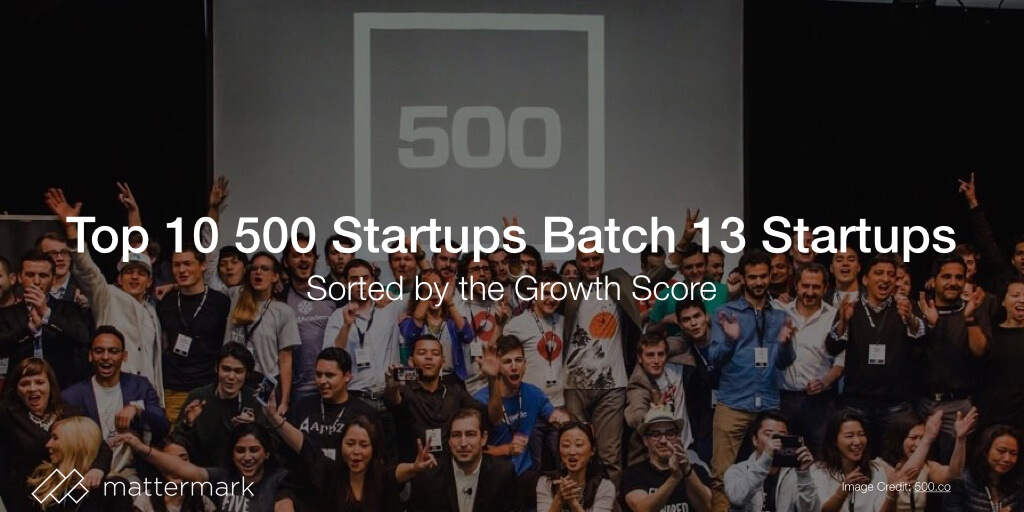 Today, 500 Startups hosts their Demo Day for Batch 13 in Mountain View.
The companies will be pitching their products to an audience of VCs, Angel Investors, and decision makers at large tech companies, in hopes of closing their next round of funding.
We ranked this batch of 500 Startups companies and found the following 10 with the highest Mattermark Growth Score.
Key Statistics from 500 Startups Batch 13
500 Startups Batch 13 is made up of 54% B2C companies
33% of the companies are based in the Bay Area
46% of the companies have at least one woman on the founding team
61% have at least one foreign-born founder
10 Fastest Growing 500 Startups Batch 13 Companies
To see more about the batch's companies, sign up for a free trial of Mattermark Pro.
---
You May Wonder:
How does 500 Startups compare to Y Combinator?
What are the top industries of Batch 13?
What is the average headcount at these companies?
For answers and more in-depth analysis, sign up for a free trial of Mattermark Pro. 
Image Credit: 500.co