Today we are excited to announce that companies can now connect Google Analytics directly to Mattermark to more accurately report their website traffic.
Our current methodology estimates monthly unique website visitors using rankings by third-party services. While these signals describe upward and downward trends, real data collected directly from code running on a company's website will always be more effective in showing online engagement. Mattermark is used by thousands of startup investors who count on us to arm them with as much information as possible about your company, so rather than an estimate why not simply provide the real thing?
The days of hiding web traffic are long gone, a relic of the first Dot Com Bubble where "eyeballs" was one of the most important metrics of all. At Mattermark we're not into over-valuing or under-valuing your website traffic, but we do believe regular gradual increases and decreases over time can be quite telling (check out Fab's profile for a great example of decline). That's why we look at relative change over time, rather than large spikes and valleys, to understand the overall directional trend.
How to Start Contributing Your Website Traffic Today
When you authorize your Google Analytics account, Mattermark will display your company's Verified web traffic data on your company profile page within 48 hours. We will also use this data to calculate the Mindshare and Growth Score, and to improve our overalll estimation methodology, algorithm and technology.
You don't need to be a Mattermark subscriber to provide verified web traffic for you company, but if you do provide us with your data we will give you 3 months of free access to our Mattermark Professional service, for you and your team (this applies to companies only, not investors or existing customers).
1. Visit http://mattermark.com/app/analytics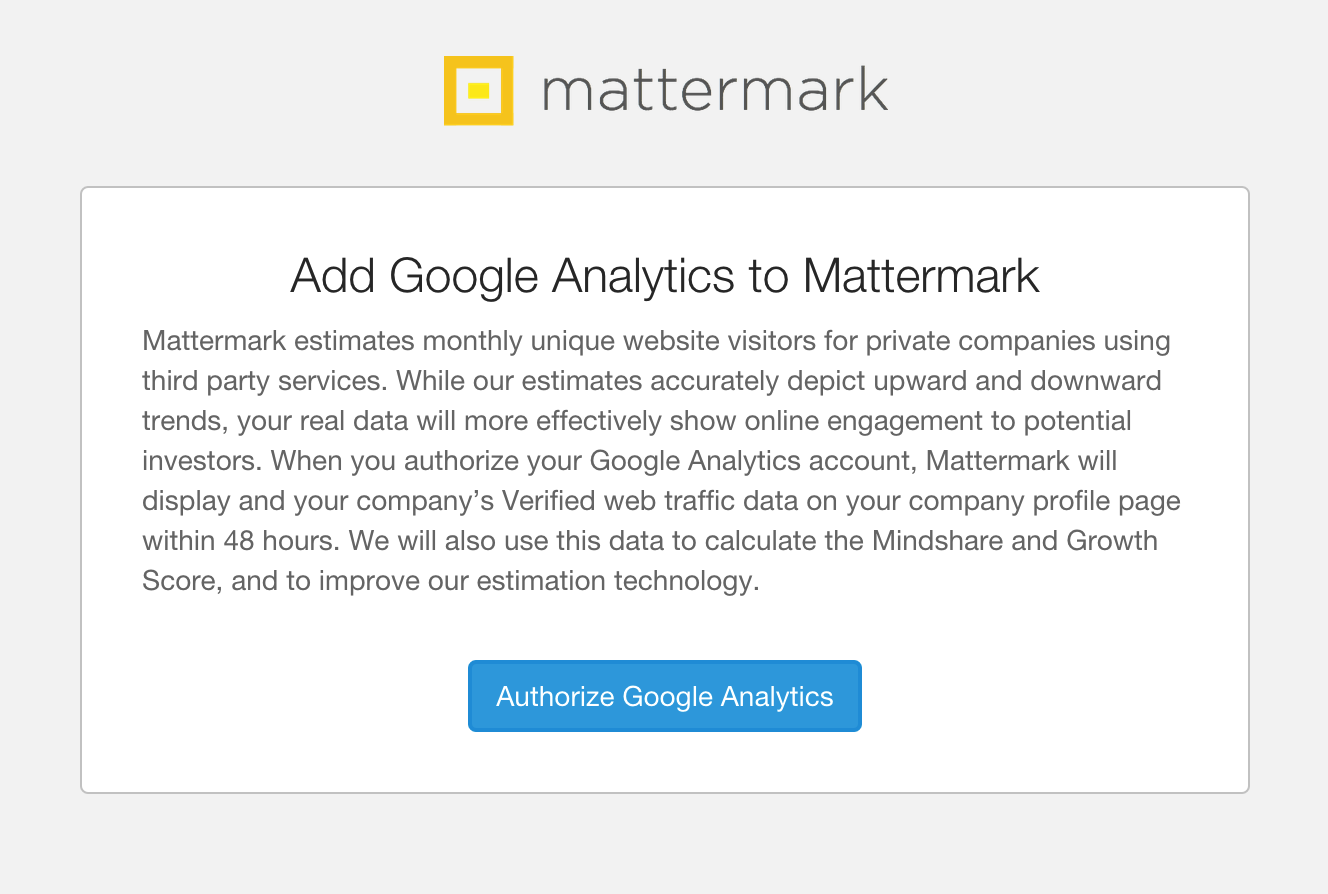 2. Login to your Google account and authorize Mattermark to access your data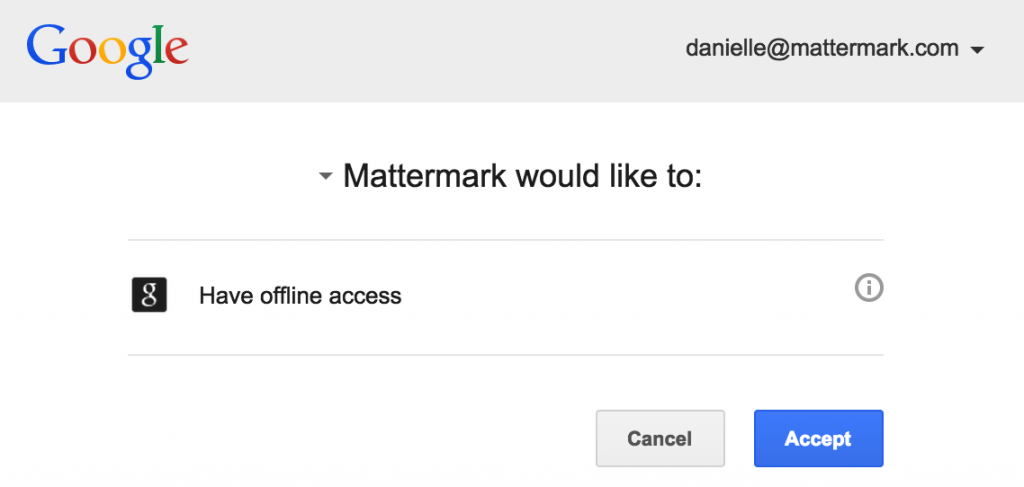 3. Select a website to connect to your company profile (right now it can only be one):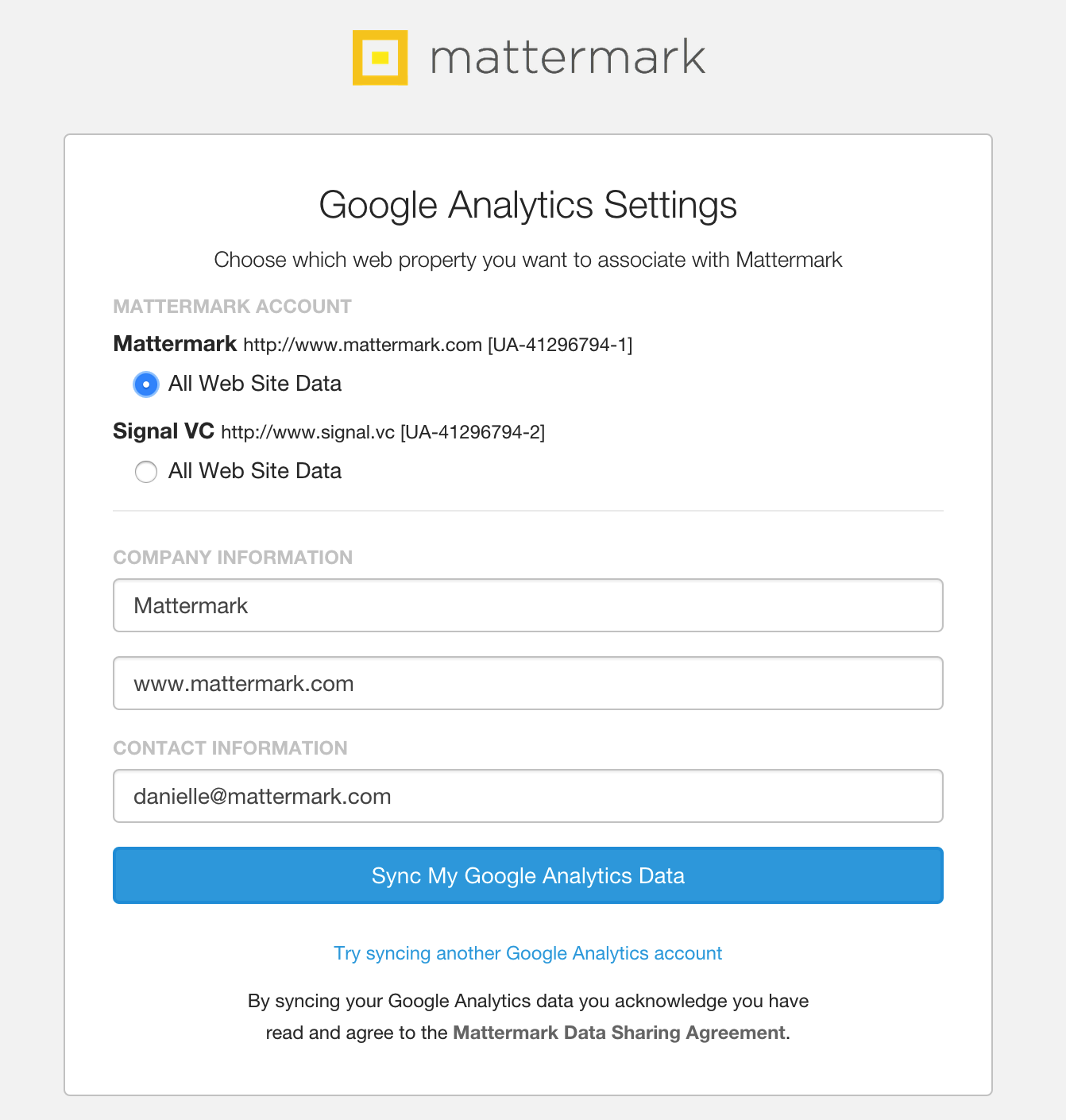 4. Once you submit the form, your company's website traffic will be verified and added to your company profile within 48 hours (and usually much faster). If there are any questions, we will reach out to the email address of the Google account you used to connect your data.
Once it's all set up, it looks like this (this is Mattermark's own website traffic):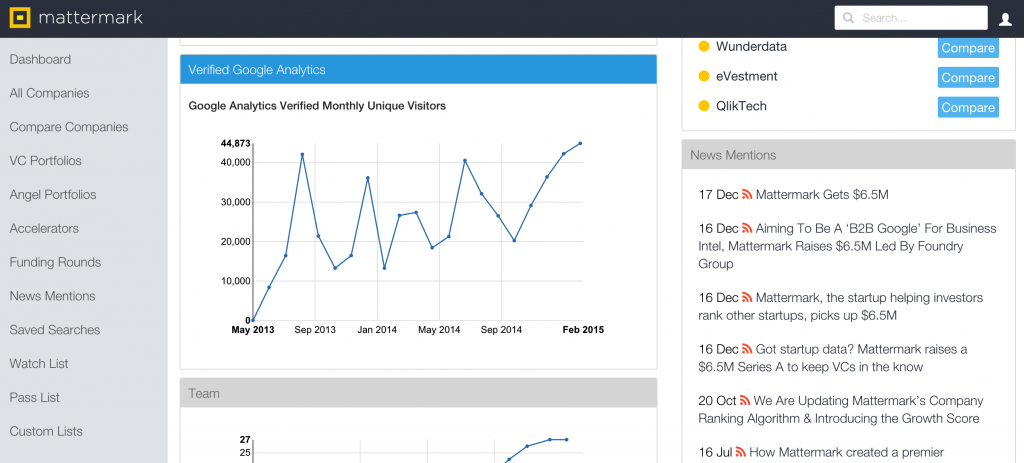 Ready to verify your website traffic and improve your company's profile page and the accuracy of your Growth Score and Momentum Score? Connect here or email support@10.147.21.165 for help.