Edtior's Mid-Morning Note: Holy Magikarp, Batman!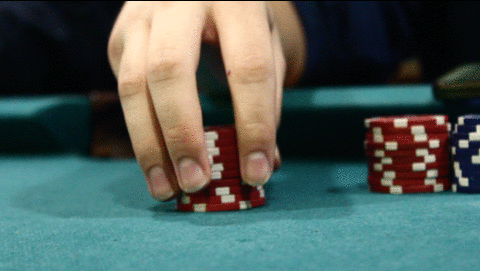 Following a busy few weeks of fresh corporate combinations, you and I are going to rewind through the most recent and most important deals. After a half-year of lackluster exits, the technology community could use a merger or two. Probably even more, given the still-slow IPO market.
How has 2016 fared to date? Here's PWC's second quarter, year-over-year figures, including the LinkedIn deal: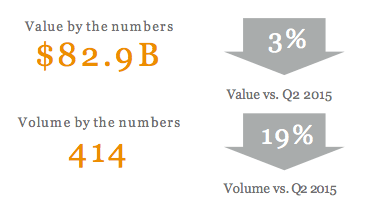 Now imagine how those figures change without LinkedIn. And that data follows a first quarter that PWC called "a modest start to the year." So things haven't been great. Let's see how that has changed.
The Deals
In no real order, here's the latest tech M&A that you will be quizzed about at the end of this article.
Deal Amount: $4.8 billion.
Smart-O-Meter: Unclear.
Other Notes: Verizon is making a big play to combine older, media-tech companies in hopes of building something bigger. It isn't clear if the sum will be greater than the parts.
Deal Amount: Various, including $1 billion to Uber at a $68 billion valuation, and an ownership stake worth billions in the combined entity.
Smart-O-Meter: Smart.
Other Notes: Uber was burning enough cash in China that it couldn't IPO its global business. Now, those barricades to flotation are removed.
Deal Amount: $750 million all-in, but $582 million in a stricter sense.
Smart-O-Meter: Unclear.
Other Notes: If you don't get to buy LinkedIn, you can do this.
Deal Amount: $9.3 billion.
Smart-O-Meter: Smart.
Other Notes: Oracle buys a company with majority recurring revenue.
Deal Amount: $2.6 billion
Smart-O-Meter: ¯\_(ツ)_/¯
Other Notes: It looks like Elon will get what he wants. So far, that's a situation that has mostly worked out.
Deal Amount: $2.4 billion
Smart-O-Meter: Smart.
Other Notes: Fleetmatics had $79 million in last-quarter revenue. It's also profitable!
—
That's a pretty good set of news for a few weeks. And a large chunk of those deals were announced even more recently. There have been public notes that M&A would pick up this year, but even given those warnings this exceeds my expectations.
M&A is back.
Investors and others alike who find comparisons that exclude outlier positive events can meet their own standard by never discounting one-time items from their EPS estimates. Bam!
Join

thousands of business professionals

reading the

Mattermark Daily newsletter.

A daily digest of timely, must-read

posts by investors and operators.