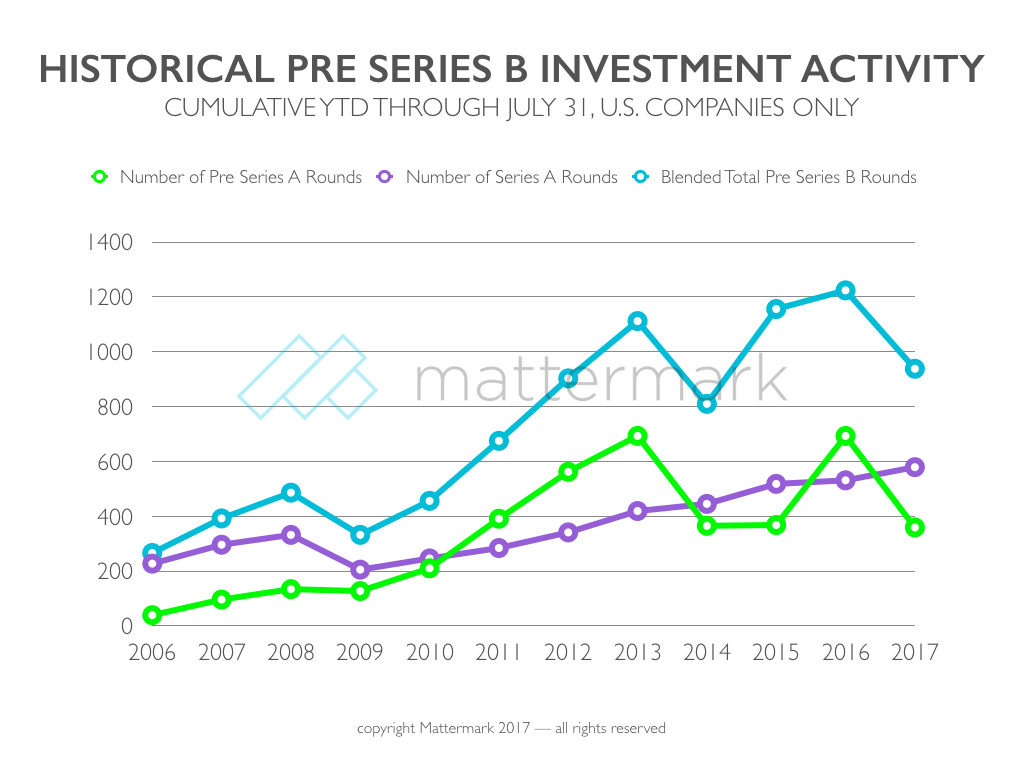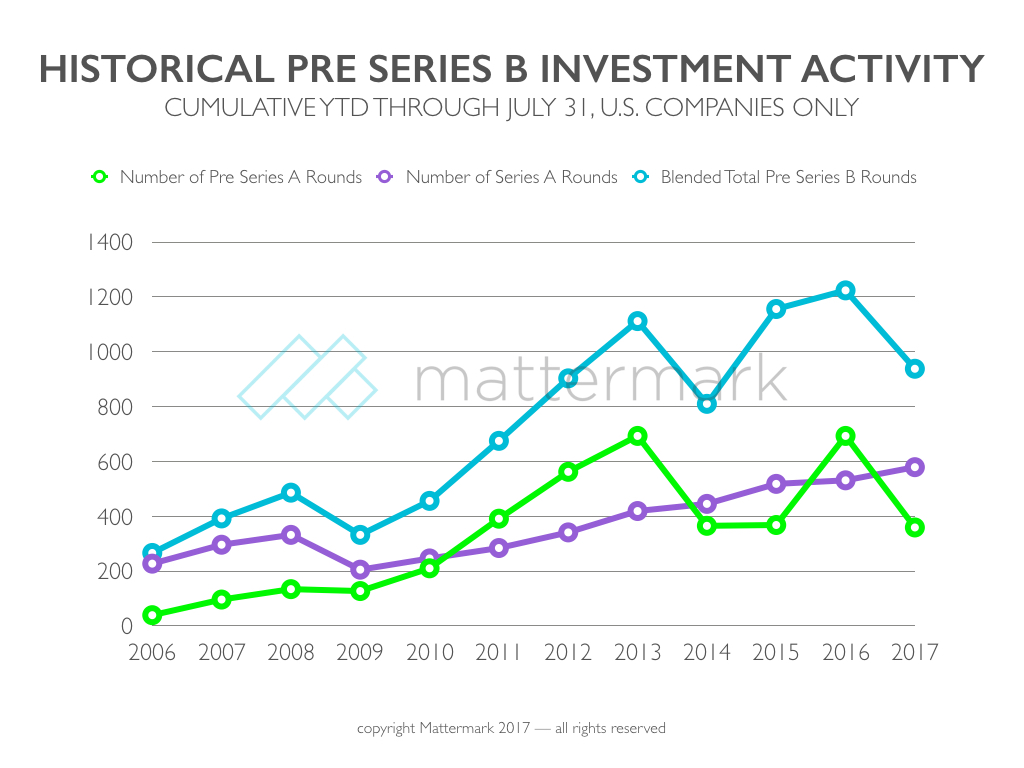 Seed Stage Investment Lags Last Year's Trend, While Series A Picks Up the Slack
Early this morning I got going with some coffee and spreadsheets summarizing U.S. startup funding so far this year. Digging around, I noticed a pretty big drop in YTD pre Series A stage funding announcements versus the same period last year, with seed+angel round volume and dollars down 48% and 47% respectively.
Could it be that early stage investors are making a move back toward starting with Series A, or startups aren't announcing their rounds, or something else? Check out the in-depth analysis over on the Mattermark blog or tweet to @Mattermark with your thoughts on what might be driving these trends.
From the Operators
Cat George continues her exploration of the pillars of entrepreneurial ecosystems with her second post in the series "Why Access To Abundant Capital Is Imperative"
Brian Armstrong of Coinbase announces new funding to support the development of Coinbase, GDAX and Toshi in "Coinbase Raises $100M Series D Lead by IVP"
From the Investors
Amplify Ventures adds Berkeley PhD Lisha Li as their newest investing partner "Welcoming Lisha Li, The Newest Member of Our Investment Team!"
Semil Shah of Haystack Fund commends founders for pushing through to the end even when their companies don't work out in "Finishing the Work"
Pedro Sorrentino of One VC gets a little bit emo asking 'who would I want at my funeral' in "On Long Term Relationship Building"
Rachael Neumann announced her resignation from 500 Startups Australia in a statement posted on Twitter
Deals!
Flipkart (MM growth score: 696) raised $2.5 BILLION more from Softbank.
Mobile analytics company Amplitude (MM growth score: 299) announced $30 million Series C funding from Benchmark, Battery Ventures, and IVP.
New York based Brayola (MM growth score: 746) is making bra shopping easier, and today they announced $2.5 million more in funding, bringing their total backing to $11M. Investors include Shahar Waiser, Roi More, Ilan Shiloah, Haim Dabah, Jonathan Benartzi, The FirstTime Fund, and Nir Tralovsky.
Want to see all of them (like ALL, for ALL TIME) you can do that in Mattermark's free iPhone app or in your Mattermark account at http://mattermark.com/app/rounds
Jobs!
Grace Putnam at MarketMan reached out to let us know they're hiring!
What they do: collaboration platform between restaurants and their suppliers.
Hiring for: Director of Customer Success for EMEA and Customer Success Associate
In her words: We are a great place to work because we are small young team that is constantly evolving and changing. We have offices in both New York City and Israel, and have clients all over the world- everywhere from Aruba to South Africa to the UK and more!
Want to put a job in this section of the Mattermark Daily? Send an email to editor@10.147.21.165 with a short clever blurb on why your company is a great place to work and links to your top 2 jobs. We'll consider including it in a future issue!
Join

thousands of business professionals

reading the

Mattermark Daily newsletter.

A daily digest of timely, must-read

posts by investors and operators.