This post is part of our Startup Funding Benchmarking Series exploring the allocation, concentration, and macro trends in the financing of high growth startups.
---
September had a bit of a sleepy start for fundraising, likely created by a combination of investors in "wait and see" mode due to shaky public markets and a well-timed holiday weekend that made the first week a wash. Private markets came back strong yesterday, and we have adjusted the Q3 total funding pace upward by a full $1 billion dollars from last week's estimate.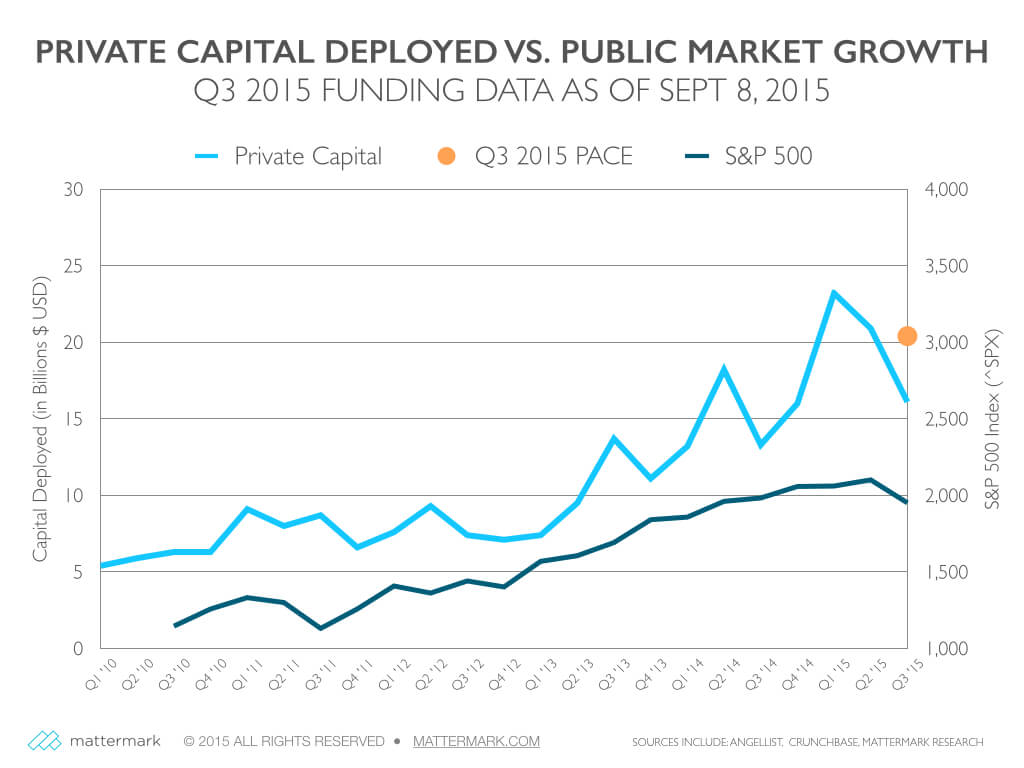 Big deals this week have formed a bit of a trend, with a $160 million Series D from Insight Venture Partners going to French ride-sharing service BlaBlaCar (MM Growth: 1,314). Uber (MM Growth: 57,597) pulled in another $1.2 billion in Series G financing led by Baidu, which brings their total lifetime funding to $8 billion, and announced plans for massive expansion into China. For context on that huge total funding number, Lyft's (MM Growth: 2,516) total announced funding stands at a paltry $1 billion by comparison, with their most recent round of $150 million Series E coming from notorious activist investor Carl Icahn.
Independent Researchers Welcome
Mattermark collects data directly from thousands of news sources every day. Using natural language processing and machine learning, we turn the content of a news story into pieces of data which can be organized, stored, counted, and ultimately presented in a format that makes analysis easy. Learn more about our approach in "Introduction to Neural Networks, Vector Reduction and Natural Language Processing by Mattermark"
We are proud to offer our customers up-to-date comprehensive coverage of funding events beyond the big stories so you can find diamonds in the rough early, and keep tabs on emerging trends. Our Funding Rounds view also let's you sort and filter to focus on the investor, stage, industry, geography and other attributes you care about.
We welcome independent thinkers! Sign up for a free trial of Mattermark Professional to access the underlying data.
Interesting Investments in September
Uber $1.2 billion Series G — Is Travis Kalanick the most skilled startup fundraiser of all time? Despite a huge decline in the Chinese stock market, the company is expanding aggressively into the country. www.uber.com
Mia $150 million Series C — The Chinese version of Diapers.com www.mia.com
Blablacar $160 million Series D — The hottest Parisian startup is riding the wave (see what I did there?) www.blablacar.in
Wrap Media $12.7 Series B — We don't often see companies raise $16 million without launching, and look forward to getting the early access we requested from a Wufoo form on their site just now. www.wrap.co
Harmonix Music Systems $15 million Series A — the creators of Guitar Hero and Rock Band are at it again, and at 138 employees this an unconventional Series A. I wonder if they can take any credit for Foundry Group partner Jason Mendelsohn's pitch perfect performance of U.S. National Anthem at Wrigley Field earlier this summer? www.harmonixmusic.com
NextLesson $2.9 million Seed — named seed investors are pretty impressive: Michael Birch (Beebo / The Battery), Marc Benioff (Salesforce), Thomas Layton (Upwork), Marissa Mayer (Yahoo), Jeremy Stoppelman (Yelp), Nirav Tolia (Nextdoor), and Drew Houston (Dropbox). www.nextlesson.org
MockBank $400K Seed — Would you have guessed this Indian startup is a test prep service from their name? Reminds me of Rocket Internet naming schemes for some reason I can't quite put my finger on… www.mockbank.com
Want to be included in the Daily Deal Review?
What I find interesting is pretty subjective. If you have a funding announcement to share, or you want your company included in the "interesting" deals send an email to editor@10.147.21.165 with the most pithy 1-2 sentence description. 10x better if you ask a thought provoking question. 100x better if you link to a tweet, gif, or video that made you smile.
---
Looking for resources to help you research startups and venture capital? Sign up for a free trial of Mattermark Professional to access the underlying data for these graphs, as well as in-depth profiles of more than one million high growth companies.