The Top Startups Going To SXSW 2017
South by Southwest (SXSW) is right around the corner, so we created a Public List in Mattermark to help you prepare who to talk to while you're there. We found 247 companies that will be represented at SXSW this year, ranked the list, and highlighted the 13 fastest growing ones that are not public or acquired and have raised less than $100 million in funding.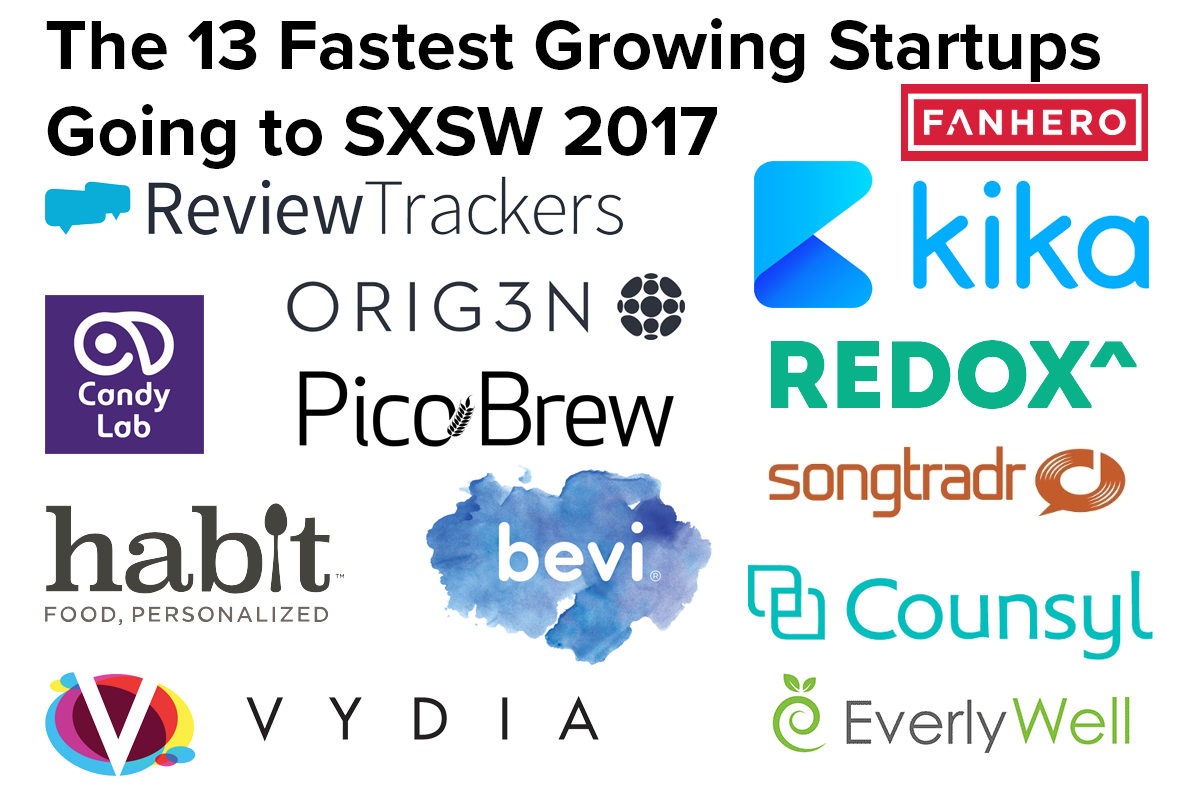 From the Investors
Mark Suster and Chang Xu of Upfront Ventures release their annual LP survey report (26 slides) to surface how the top of the VC funnel feels in "Why the LP Outlook is Good for Venture and Startups in 2017–2020"
Marie Brayer of Serena Capital deciphers the thought process of old school vs power law VC mindsets with an imaginary SaaS company raising funding in "Is Your Company Worth €5 or €22m? Both."
Kevin Lee and Jerrod Engelberg of FundersClub dive into whether seed stage companies should raise a convertible debt round or an equity round in "Transparent VC, Episode 3" (podcast)
Sammy Abdullah of Blossom Street Ventures looks at the historical and current net retention trends of 16 public SaaS companies and determines "Net retention of ~100% will help take you public"
Christie Pitts of Verizon Ventures discusses how AI will evolve and improve over time with Momin Mirza of Verizon, Esther Crawford of Olabot, Raj Ramaswamy of ShopInSync, and Mounir Shita of Kimera Systems in "VZV Podcast — Episode #3: Chatbots and AI (Part 3)"
From the Operators
Per Harald Borgen of Scrimba explains how they raised funding by doing side projects, building an awesome product, blogging on Medium, networking on Twitter, and had a stroke of luck in "How We Convinced Founder-Angels to Invest in Our Developer Tool Startup"
Dr. Cameron Sepah of Omada Health believes the best way to compare performance against company values is to directly reinforce value-driven behavior, including making it an integral part of employee's reviews and weighting it as highly as performance in "Your Company's Culture is Who You Hire, Fire, and Promote"
Misha Chellam of Tradecraft shares a set of resources to learn how you should understand and account for the potential value of equity as part of a compensation package in "How To Value Your Startup Equity"
Sara Mauskopf of Winnie recognizes that starting a company and being an involved parent do not have to be at odds in "Parenting Is a Real Job"
Steli Efti of Close reflects on why thriving in the YC environment isn't about having the best idea, the most disruptive product, or the smartest team, but about having the right attitude in "Y Combinator is a Waste of Time—Unless…"
Join

thousands of business professionals

reading the

Mattermark Daily newsletter.

A daily digest of timely, must-read

posts by investors and operators.
---
Also published on Medium.