Research Investors In Mattermark
We've doubled the questions you can answer with Mattermark. Now, Mattermark includes data on the entire investor ecosystem, so you can quantify and structure investor data as you need. Learn about the number of deals, portfolio size, 3 year funds sold, most recent fund date, and more.
Learn how to research investor activity with Mattermark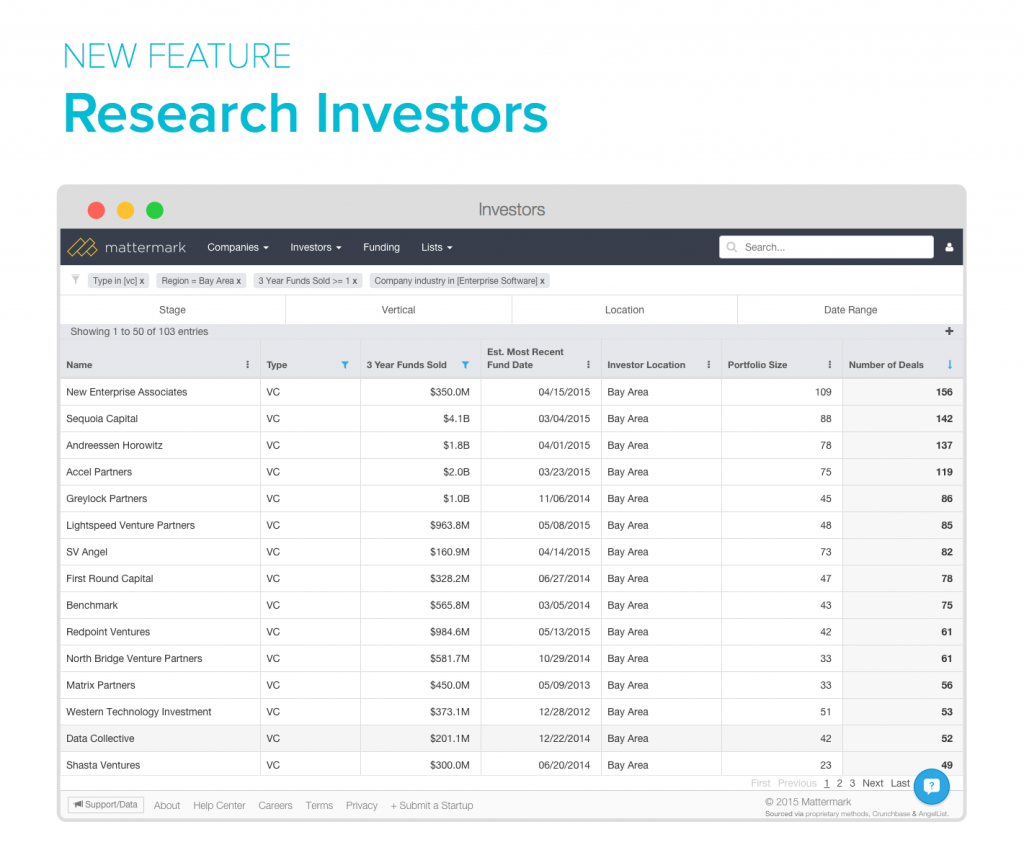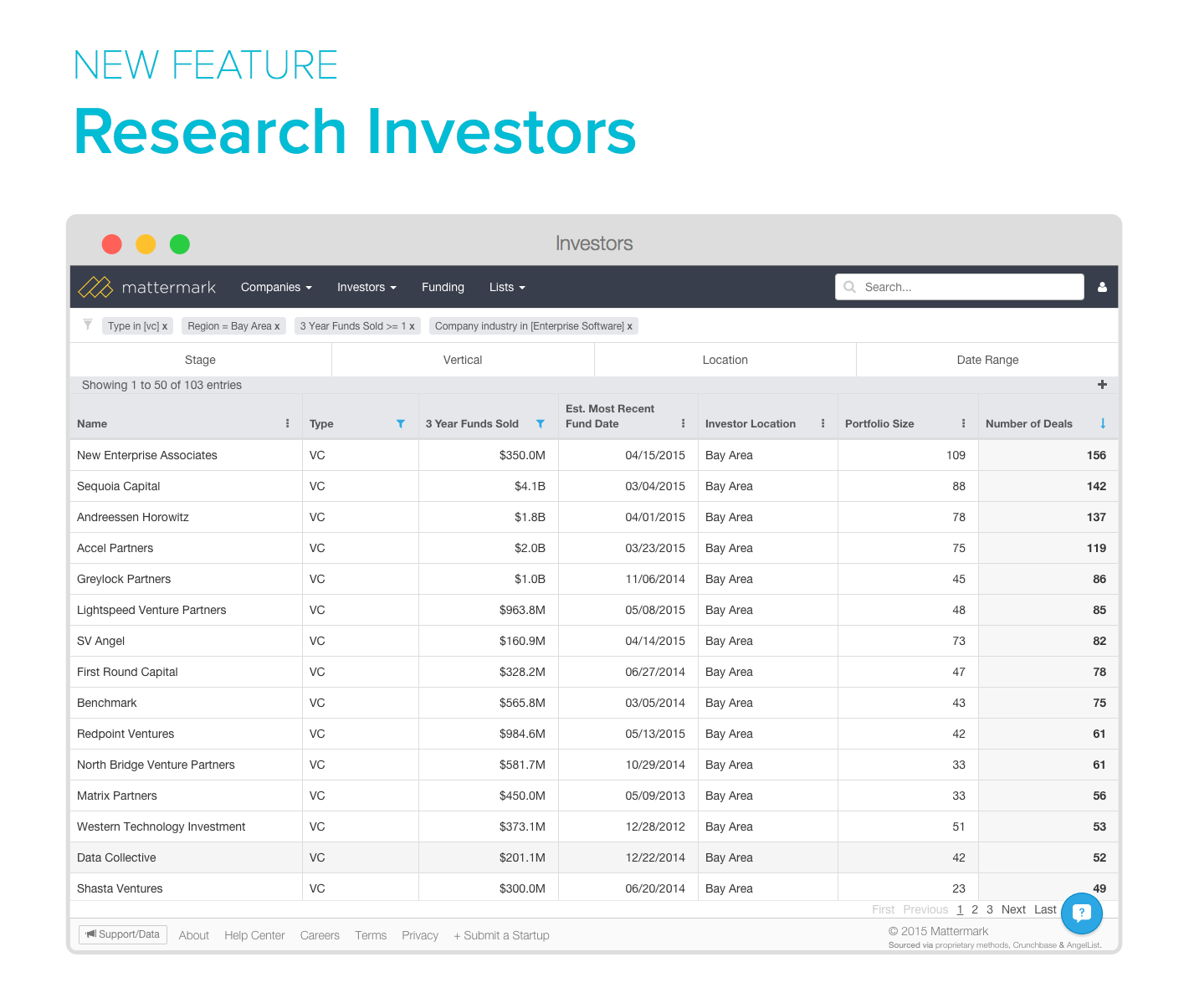 From the Investors
Tomasz Tunguz of Redpoint Ventures compares 2014 and 2015 M&A data and finds that current 2015 M&A trends are on the decline in "Trends in Startup Acquisition Market in 2015"
Fred Wilson of Union Square Ventures sees Seed and Series A pre-money valuations as 'more or less healthy', whereas 'Series C and beyond has gone crazy' in "Two Charts"
Semyon Dukach of Techstars takes a sarcastic look at pro-rata rights and declares that early stage investors have no business in late stage rounds in "The Pro-Rata Bubble"
Mar Hershenson of Pejman Mar Ventures, Isaac Madan and Shaurya Saluja of Stanford University research Stanford's entrepreneurial output and how it compares to Harvard's in "What Do Stanford GSB Founders Look Like?"
Jean Bourcereau of Ventech shares his opinion as a version of Maslow's hierarchy of what is needed to build a sustainable society in "Uber vs Cabbies, Maslow's Style OR Why It's Just Fair That Uber's French Management is Under Legal Pressure"
Elizabeth Kraus of MergeLane outlines the 'Angel Investor Deal Gold Standard', a list of criteria that most investors strive to meet in "What Type of Companies Do Angel Investors Fund?"
Mahesh Vellanki of Redpoint Ventures walks through important calculations, metrics and unit economics for consumer internet businesses in "Stop! You're Doing Lifetime Value Wrong!"
David Cowan of Bessemer Venture Partners reflects on the Turing Test and its relation to his investment in Distil Networks in "The Imitation Game (or, Why I Invested in Distil Networks)"
From the Operators
Andrew Wilkinson of MetaLab draws parallels between today's funding ecosystem and the dotcom years and provides 'The Defensive Playbook' to weather any potential storms in "We Need to Talk About Startups"
Camille Ricketts of the First Round Review features Matthew Bellows of Yesware who offers strategies to help break open even the most secretive company cultures in "The Case for Startups to Make Radical Transparency the Top Priority"
David Heienemeier Hansson of Basecamp rails against hunger being cited as the 'source of motivation for starting new businesses' in "Empty Stomach, Poor Decisions"
Sean Blanda of 99u and Tristan Walker of Bevel explore what it takes to build a world-class company in "Bevel's Tristan Walker: The Best Ideas Are Brewed Out of Authenticity"
Serial Entrepreneur Max Levchin shares his boyhood discovery of the magic of computers in "When I Learned That Computers Have Soul"
Buffer launches an overview of everything they've made transparent – salaries, equity, values, revenue, open source code, emails, and more in "Buffer + Transparency"
From Mattermark
Mattermark Webinar: Interested in our Latest feature release- All Investors? Join our Head of Product, Bryan Tsao, for an overview of the development of our biggest release of the year on July 8th at 11am PST.