We Launched Our New API
We are at the beginning of a data revolution, and the way businesses make sales and investment decisions are set to fundamentally change. At Mattermark, we've organized a massive amount of data on the world's fastest growing private companies. Starting today, companies can tap into our data to build proprietary solutions that can surface valuable insights.
Learn more about the Mattemark API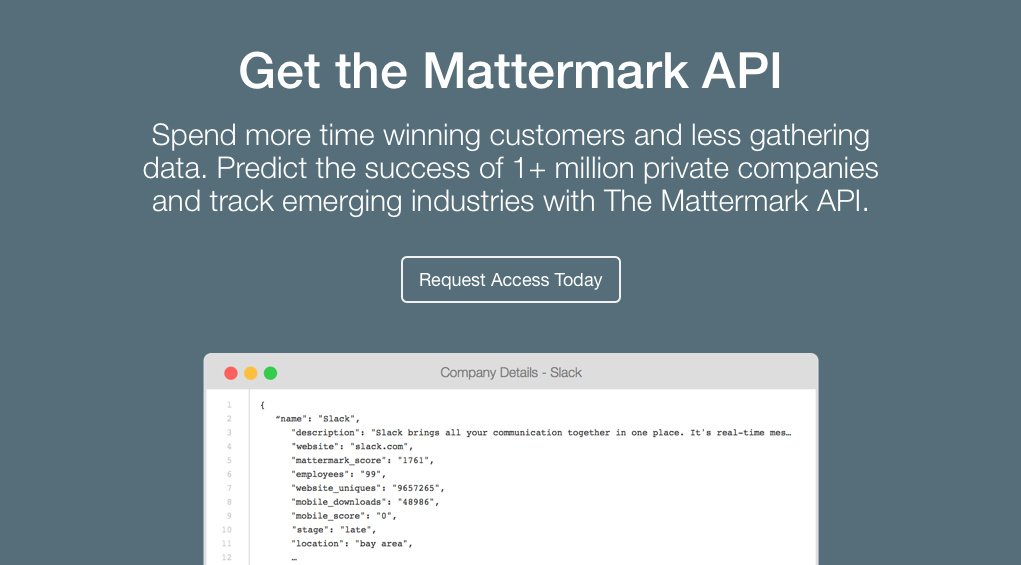 ---
From the Investors
Brad Feld of Foundry Group agrees with Mark Suster's post that there is a problem involving liquidation preferences and surfaces another problem when raising convertible notes in "The Pre-Money vs. Post-Money Confusion with Convertible Notes"
Brian Feinstein and Trevor Oelschig of Bessemer Venture Partnersdescribes successful playbooks for building industry-specific software businesses and sectors 'ripe for innovation' in "The Industry Software Revolution"
Mackey Craven of OpenView Venture Partners discusses the ever-higher valuations of today's unicorns and the 'trap of the private IPO' in "How Ever-Higher Valuations Lead Unicorns Into a Cycle of Private Capital Dependency"
Fred Wilson of Union Square Ventures calls attention to the reality that three out of four people are independent contractors and says, 'it's one of the big megatrends of this century' in "The Freelance Money"
Mark Suster of Upfront Ventures shares his thoughts on what leadership means to him at work and as a father in "On Leadership. Fatherhood. And Managing Different Personalities"
Claire Lee of Silicon Valley Bank displays graphs from Mattermark and other organizations to highlight 'the big ten trends: from valuation to locations' in "Big (Venture) Data: Winter Is Not Coming – It Was Just a Late Spring"
Carlos Espinal of Seedcamp believes the value of experiences is eclipsing that of ownership and delves into why this trend is happening around the world in "The Changing Balance Between Experiences and Ownership: These Startups Enable It"
Logan Bartlett of Battery Ventures summarizes the trends he's seeing in the marketing and sales SaaS market in "The Evolution of Sales and Marketing SaaS"
From the Operators
Camille Ricketts of First Round Capital features Selina Tobaccowala of SurveyMonkey who draws on her experiences to share the 'non-obvious steps startups should take to achieve a strong global presence' in "The Inside Story on How SurveyMonkey Cracked the International Market"
Olivia Nottebohm, Kara Sprague, and Eric Kutcher of McKinsey & Company expand on the idea that software and services companies can quickly rise to billion-dollar 'giants', 'but the recipe for sustained growth remains elusive' in "Grow Fast or Die Slow"
Dan Shapiro of Glowforge announces their $9 million Series A withFoundry Group and reflects on the fundraising process in "Glowforge Completes its Series A with an Investor We Never Met"
Peter Yared of Sapho looks at the trend of people leaving 'traditional jobs' and pursuing a lifestyle as a freelancer in "How Tech is Leading Us Back To a 'Village'-Style Life"
Scott Belsky of Behance offers his strategy to identify your 'competitive advantage' as a maker and/or investor, where your interests and beliefs overlap in "Stay In Your Overlaps"
John McHugh of Verifeye Media looks back at his time as a photojournalist on the frontlines in Afghanistan and announces his new company focused on 'visual journalism' in "I Left My Dream Job To Build Something New"
From Mattermark
Mattermark Webinar: Join our webinar on Tue, Jun 16, 2015 10:00 AM – 11:00 AM PDT. Kyle Porter, CEO of Salesloft, will be sharing his thoughts on why sales teams have adopted a more data driven approach to prospecting in recent years.
Submit content for us to consider with this online form.
Subscribe To The Mattermark Daily