Today, we're excited to announce our $6.5 million Series A round, led by Foundry Group. Please join us in welcoming Brad Feld to our board of directors, where we will work closely to make our vision for organizing the world's business information. We're looking forward to learning from him and building great things together. Tech press weighed in on the ground as well:
"Aiming To Be A 'B2B Google' For Business Intel, Mattermark Raises $6.5M Led By Foundry Group" TechCrunch (read more)
"Got startup data? Mattermark raises a $6.5M Series A to keep VCs in the know" PandoDaily (read more)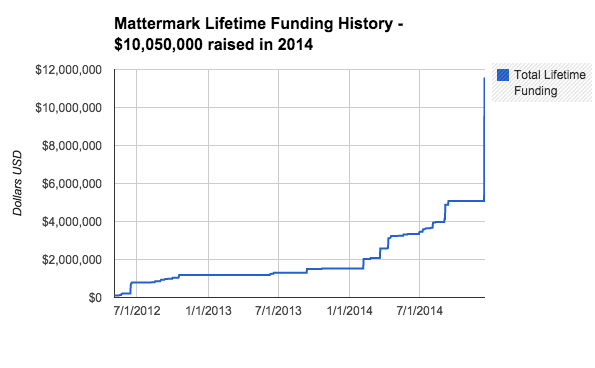 ​One interesting point of analysis: In making this graph showing our fundraising total as it grew over time, we were surprised to see that $10M of the $11.4M total was raised in 2014.
From the Investors
Google Ventures showcases their portfolio and investment activity during 2014, noting 57 new investments and 16 exits in "Google Ventures: Year in Review 2014"
Tomasz Tunguz of Redpoint Ventures provides four potential reasons why B2B and B2C companies are reaching $1B valuations in an average of 2.5 years in "Why the Time to $1B in Valuation for Startups Is Decreasing"
Brad Feld of Foundry Group points out Techstars' program to 'positively impact' the Detroit startup community and Techstars partnering with the Mayo Clinic in Rochester, Minnesota in "Two New Techstars Programs – Mobility/ Detroit and Techstars++/ Mayo Clinic"
Mark Suster of Upfront Ventures announces their fifth fund of $280 million to continue investing in 'predominantly Series Seed & A round deals' in "Upfront Ventures Raised New $280 Million Fund"
Jeremy Levine and Rafi Syed of Bessemer Venture Partners evaluate the current state and future potential of transactional and end-to-end marketplaces in "The Emergence of the End-To-End Marketplace"
Maia Heymann of Common Angels Ventures gives her perspective on the term 'angel' in angel investing, the Boston startup scene and the fundraising process in "The Problem with Angel Investing" (audio)
Jason Lemkin of Storm Ventures shares ten lessons Kris Duggan of Betterworks learned from building Badgeville in "This Time, I Generated Leads Before We Even Launched"
From the Operators
Craig Newmark of Craigslist lends his support to the Global Fund for Women and UN Women's petition 'calling for an end to the global gender technology gap' in "Why We Need More Women In Tech"
Eric Siu of Single Grain guides founders in building a 'burn rate framework' and highlights Danielle Morrill of Mattermark's burn rate post in "How Much Money Should Your Startup Be Burning Through?"
Simon Dawlat of Batch reveals web traffic and sign up conversion rates from multiple sources, with Product hunt driving the most traffic in "Start-up Launch Power: Product Hunt vs. Hacker News vs. TechCrunch"
Niniane Wang of Evertoon warns founders to 'watch out for' two specific categories of people in the startup ecosystem in "Most and Least Supportive People"
Subscribe To The Mattermark Daily