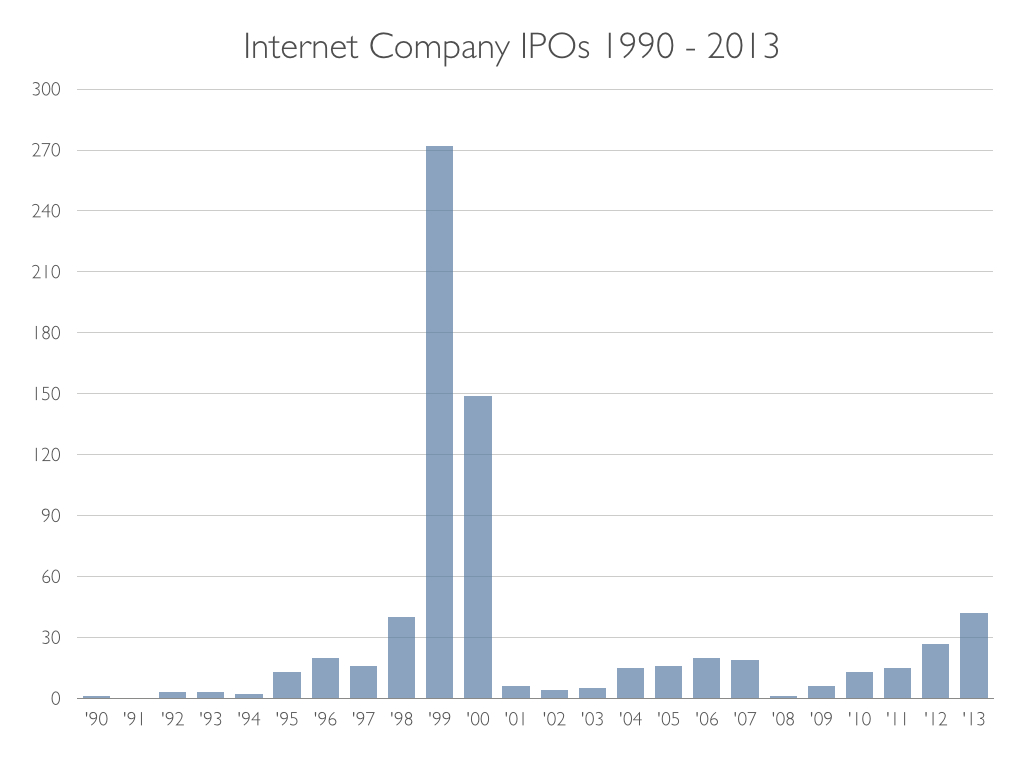 This blog post is an excerpt from our Mattermark Weekly newsletter. Subscribe for free to get original content, insight, interviews and analysis in your inbox.
As 2013 draws to a close, we've seen a healthy uptick in IPOs of technology companies and many more heavily funded startups waiting in the wings to IPO in the months and years ahead. With this in mind, we have pulled together a list of the highest scoring companies who have raised at least $80 Million in funding, and have taken a new round in the past 2 years.
Silicon Valley Business Journal also features the list this morning with commentary from Mattermark CEO Danielle Morrill on the number of B2B companies to make the fastest growing list. She said:
"Given the metrics we measure I would have expected consumer companies to show their strength in this reading," she said. "I would never have expected to find MongoDB at No. 2."
1. Pinterest – social network for sharing photos on digital pinboards
2. MongoDB – noSQL database powering big data applications
3. Uber – on-demand marketplace for personal transportation
4. Pivotal – enterprise platform-as-a-service for software development and big data
5. Fancy – curated product discovery & online shopping
6. Nest Labs – creators of the Nest thermostat and Nest protect (smoke detector)
7. Zendesk – SaaS helpdesk and customer support solution for SMB and enterprise
8. Snapdeal – India's largest online marketplace for e-commerce
9. Xiaomi Tech – Chinese software and hardware company (MI2 Android phone)
10. Outbrain – content discovery platform for native advertising
11. Fotolia – low-price stock photography marketplace from amateur photographers
12. Wayfair – largest online retailer of home goods in the U.S.
13. AirWatch – enterprise device, content and application management
14. ChargePoint – largest electric vehicle charging network in the world
15. JustFab – monthly VIP fashion membership program
16. DocuSign – electronic signature SaaS
17. Adaptive Planning – employee performance management SaaS
18. Deem (formerly Rearden Commerce) – B2B commerce-as-a-service
19. Appirio – enterprise software systems integrator
20. Tango – social network for mobile messaging and calling
21. Deezer – streaming music provider (not available in the U.S.)
22. Blue Jeans Network – enterprise software for business collaboration by video
23. AppDynamics – application performance management SaaS
24. Mulesoft – enterprise data integration platform
25. Box – secure file storage and sharing SaaS
Try Mattermark Pro for free to access our database of more than 200,000 startups. 
Notes on the Mattermark Score: Mattermark measures weekly changes in the growth rates of web traffic, mobile downloads, inbound links, employee count, social media following and engagement to assign each company a momentum score. The faster a company is growing, the higher their score. Weekly momentum scores are averaged over time to arrive at the Mattermark score, which describes the growth of each company over an extended period of time.