Rapidly growing sales teams know the pains of territory planning. They're process-driven and results-focused. To successfully lead a multi-rep organization into the future, modern sales organizations need a fruitful territory strategy. 
The head of sales often segments his team based on the ideal customer profile and how the organization defines "territory." Steve Andersen, president and founder of Performance Methods Incorporated, and Nancy Chen, content marketing intern at Repsly, wrote great articles on how to decide what are factors define "territory" within an organization. Definitions sometimes depend on size of business (enterprise, mid-market, small business), location of business (region, state, zip code), or expected revenue. The goal of territory planning is to ensure complete coverage across all possible contacts.
Today, we're excited to introduce two new, highly-requested data points that help sales teams with territory planning: revenue range and U.S. zip code. Adding these two crucial data points to our 80+ currently available data points helps sales teams define and continually add new companies to their territories, resulting in more strategic, efficient territory planning. The power of saved searches, alerts and news will give sales reps the best insight into their leads and companies to include in their territory. 
Let's take a quick look at how sales teams can use revenue ranges and zip codes in tandem with Mattermark's capabilities.
When sales ops are planning territory strategy, they can create and share saved lists for each sales representative based on their territory. They can then share each saved list with the appropriate sales rep, and then the sales ops and sales rep will receive notifications when new companies match the filters set in that list.
For example, if your territory includes companies with $5 Million – $10 Million ARR located in downtown San Francisco (zip codes: 94102, 94103, 94107, 94108), you can enter that criteria to discover companies you should be talking to. Spoiler: this query results in around 240 companies. You can see the list of companies or conduct your own query when you sign up for a free trial of Mattermark.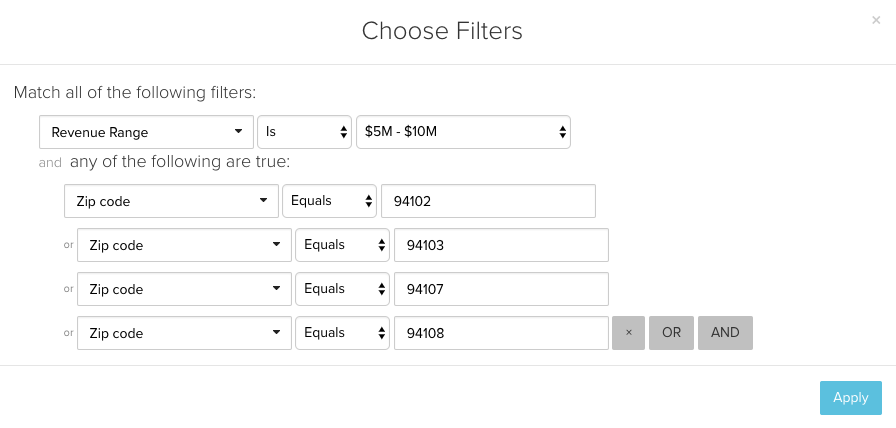 The revenue range and zip code data points reduce the friction and time typically required for finding new companies that fit within that selected territory. We're adding new companies weekly, and you'll receive notifications as soon as new companies are added to your saved list. Combine that with news, Growth Score and recent funding, and new conversation with companies will never be cold or forgotten again. 
Revenue ranges and zip codes are now available in our API, Mattermark Pro and Salesforce AppExchange. Wherever you use Mattermark, you can enjoy these data points to identify prospects at the most relevant moment.
Want to try our latest updates like revenue ranges and zip codes in addition to contact details? Sign up for a free trial today!