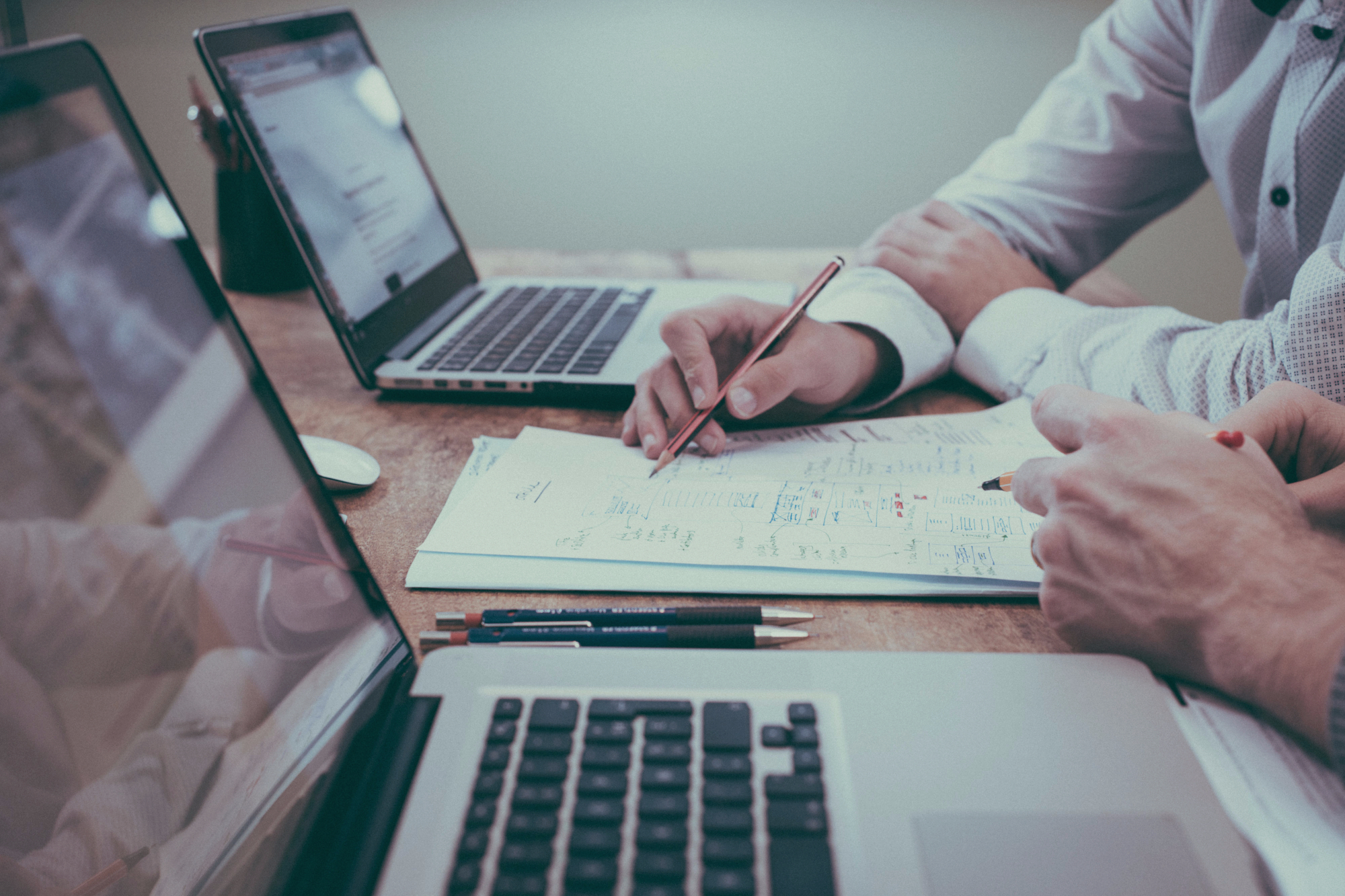 In the first part of this series, you learned why replacing the traditional sales process with account-based sales will allow you to move upmarket, at your targets, while building a more effective sales process. Below, we walk you through the four-step framework you can use to get started with account-based sales, today. Let's do this!
Moving from lead-based sales to account-based sales might seem like a massive upheaval of your sales process. But there are just four steps you have to follow to get started. Any sales organization, big or small, can work these into their workflow and switch from low-quality leads to high-quality accounts.
1. Research your current customers
This pivot from people to accounts might seem to depersonalize the sales process. Far from it. ABS start with a commitment to customer insights. This means that you are flipping your normal, stab-in-the-dark sales process on its head.
In a regular lead-based sales process, each SDR will take the lead next up in their CRM, quickly go through any information attached to the lead and immediately reach out. The phone call is their research. They know only the basic information about the lead before contact, and will use it for discovery.
In account-based sales, that first contact is the final step rather than the first. It only happens after the SDR has completed their research into that target company and the individuals therein.
The great thing is that you already have the model for your best prospects—your best customers.
Start by analyzing your existing high-value customers to build an ideal customer profile (ICP). An ICP is your model for the best accounts that you are looking for. Look for the attributes they have in common, that is the bedrock for your success: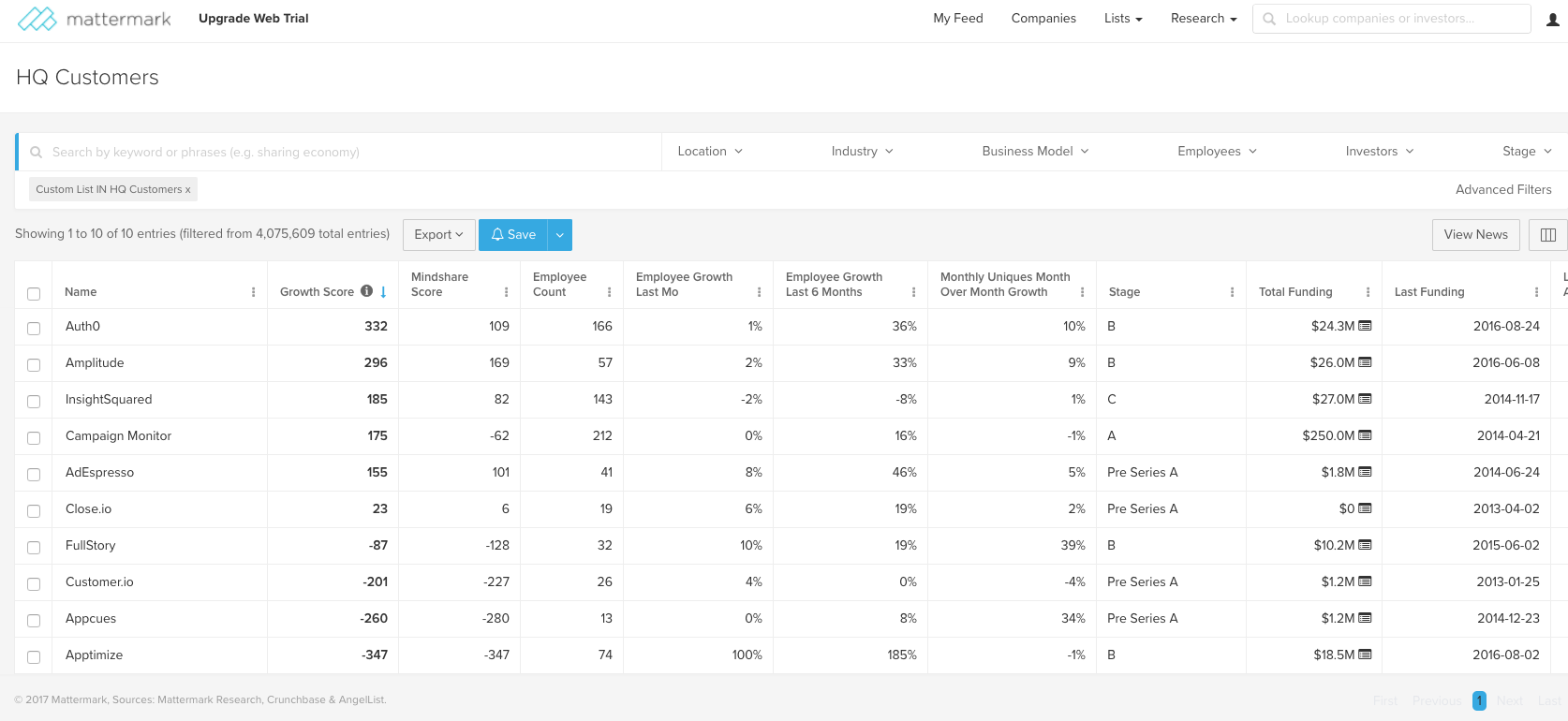 Potential attributes might be industry, company size, revenue, funding, or growth rate. Above, we can see high-quality current customers all in the B2B SaaS space, all with either a high Growth Score or employee growth over the last 6 months, and in some funding stage. These are all potential avenues to start building your target list.
If your issue is that you are missing these initial high-quality customers, you can perform this analysis on your competitor's customers. This will tell you who the main products in your space are targeting as well as their common attributes. Your competitor's high-quality customers can also become the building blocks of your target list.
2. Build your target list
This is the critical step. Once you know what makes a customer great, you want to go out and replicate your successful customers.
This involves more research. But research is at the heart of an account-based sales process. Using Mattermark you can discover companies with these similar attributes to your best current customers: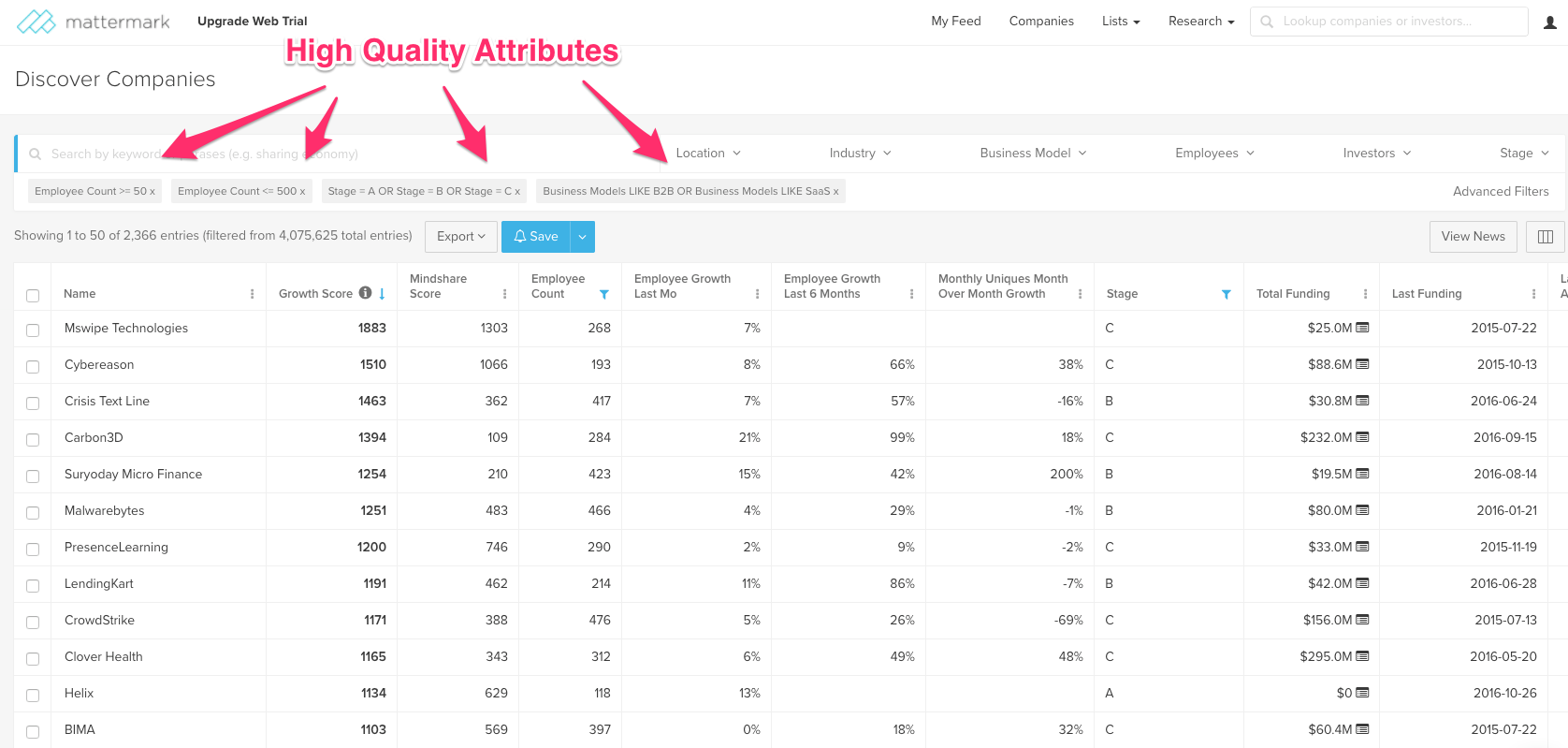 By sorting them via Growth Score, employee count (as a proxy for company size), or stage you can find out the top accounts that match your criteria.
For this list, it is better to start narrow and broaden over time. Start with companies that match your ICP exactly. These should be the top priorities for your SDRs. As you reach out to these target accounts and engage them, then you can start to broaden your criteria.
As each becomes a customer, they then become fodder for your initial ideal customer profile. This way, your ICP becomes an ever-evolving, dynamic list of the customers that are best suited to your company.
3. Identify internal prospects
Only at this point do you start to think about the individuals in each company. More research is required.
The people you identify will depend on your exact product. If you are a marketing automation tool, you'll want to research the CEO, CMO, Marketing Ops, mid-level marketing managers, and frontline marketing personnel.
Buying decisions can involve all of these people at each seniority level. Identifying pain points for each is important for the consensus sale.
If you picked Cybereason from the above list, you can then find out more about the people at the company from the Key People pane: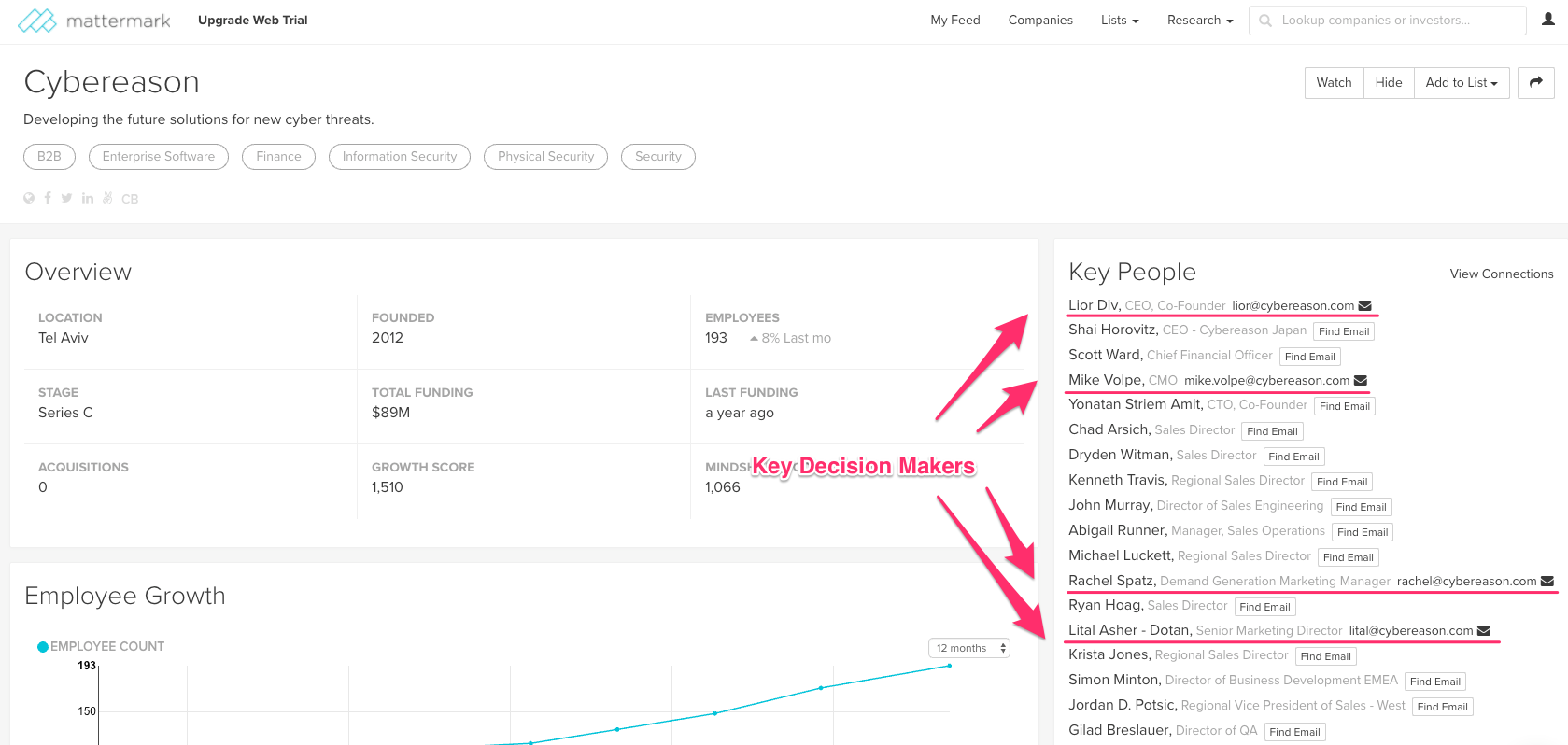 From here you have two pieces of important information:
their Linkedin account so you can find out more about them personally
their email so you can contact them when ready
If you have a marketing tool you might identify CEO Lior, CMO Mike, Demand Generation Marketing Manager Rachel, and Senior Marketing Manager Lital as the people who will make the main buying decision for your tool. You need to prospect and contact these specific people within the company to make a difference.
At this point the efficiency of ABS begins to show. Instead of reaching out to hundreds, or thousands, of potential leads, you're targeting a few high quality accounts, and reaching out to only the key people there. But you know that these people are exactly the people that need and will want your product.
4. Reach out
It is only at this stage, with all this information at your disposal, that you reach out.
Lead-based sales starts with customer contact; account-based sales uses it as the finishing touch. You can reach out with so much more information at your disposal, allowing you to craft and target your messaging uniquely.
Each of the above four people can get a customized message. You can find information that is personal to them and tailor that into your initial email.
You are not just sending information that anyone would care about, you are sending information that Demand Generation Marketing Manager Rachel Spatz at Cybereason would care about.
Account-based sales doesn't depersonalize your sales process, it hyper-personalizes your sales process.
Start with ABS ASAP
Don't be scared about getting started with ABS immediately. This framework should show that it's far from being an incredibly complicated process—it's actually very easy to set up.
All it requires is a shift in mindset. Instead of act now, think later, it becomes research now, act later. All account-based sales means is putting research at the forefront of your sales process and allowing data to guide who your customers should be.
From there it becomes a flywheel. Good customers beget great customers. Great customers beget incredible customers. All while your company is growing on top of their success.
---
Also published on Medium.