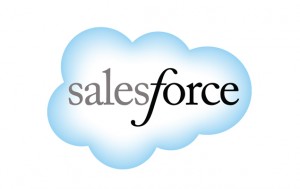 Earlier this month we launched new collaboration tools to help your team work better together on researching, prospecting and tracking companies. These new features, including our Salesforce integration, empower your team to spend less time on data entry and more time closing contracts. With data on over 200,000 private companies, Mattermark speeds up your organization's deal sourcing processes by automatically updating accounts in Salesforce with valuable information such as funding amounts, company stage and employee count.
Our Salesforce integration takes only a few minutes and couple mouse clicks: no IT support needed. Please note that some features of our Salesforce integration such as bulk synchronization are only available to users with Team plans. Contact our sales team if you'd like to upgrade your plan today or to set up a free trial and receive a demo.
Sync Salesforce to Mattermark
Start off by signing into your Salesforce account, then visit the Salesforce settings page in Mattermark via the dropdown menu which populates after clicking on the avatar in the right-hand corner of our app. You can also integrate Salesforce from any company page in Mattermark. For this tutorial, we'll reference how to integrate from Mattermark's own company page. In the Quick Facts section on the right side of the page, you'll see a Salesforce dropdown menu. Click on it, and then click on "Connect Salesforce."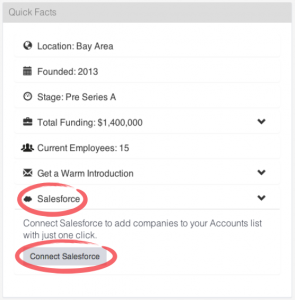 After clicking this, Salesforce will ask you to confirm. Allowing Mattermark to sync to your Salesforce accounts creates a one-way stream: We only provide — and never take — account data.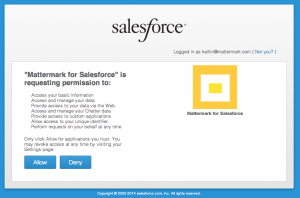 Click "Allow" to sync. You'll be taken to a confirmation page which says, "Salesforce successfully added to your Mattermark account." Continuing from this page will bring up Mattermark's Salesforce settings page, where you will be asked to map Mattermark's data fields to Salesforce's data fields.
Use the dropdown menu on the settings page to select which Salesforce fields you want populated with Mattermark information, then click "Add." Next, choose which Mattermark fields will map to your choices. Continue this process until you've completed the items you'd like to map and click "Save."

These are the Mattermark fields you can currently sync either to existing fields in your Salesforce installation or to new custom fields you create to hold this information: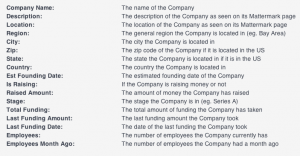 You may edit your choices on the settings page whenever you need. To access the Salesforce settings page in Mattermark, click on the user avatar in the right-hand corner.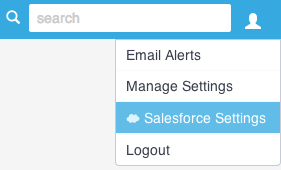 Adding & Updating Mattermark Companies in Salesforce
All Team plans offer the option to bulk sync Mattermark's data with your Salesforce accounts. To enable this feature, you must contact your Mattermark account manager. We'll take care of the rest: As long as we can match website information in your contacts with website information in our database, we will continually and automatically update all data you've mapped between Mattermark and Salesforce.
If you do not have a Team plan, you must add or update each contact individually by clicking on "Add Company" (or "Update Record") in the Quick Facts section of a company's page.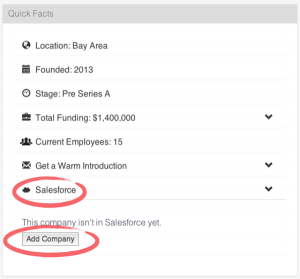 Once a company has been synced, you can easily access its Salesforce page via the Mattermark company page by clicking on "Visit Record" in the Quick Facts section. This is where you'll also find the "Update Record" option.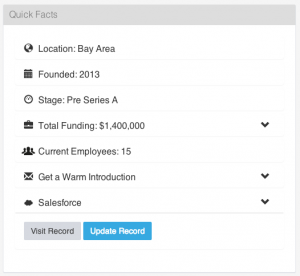 Say Goodbye to Manual Data Entry
Now that you've integrated Salesforce into Mattermark, your team will have more time to focus on more valuable tasks than researching and updating target company details.
Have more questions about our Salesforce integration? Contact support today.