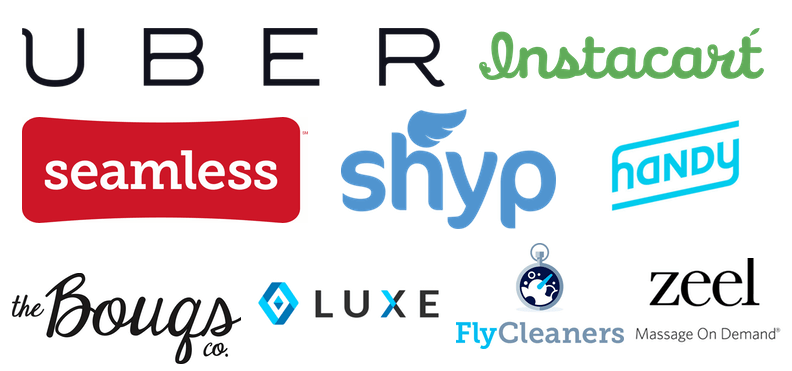 It's been a few years now since the uprising of on-demand startups in seemingly every vertical. Time to revisit, and see which have proven to be mainstays and which have faded. I'm taking off my investor hat for this one. No hype, no press, no unit economics, no valuations. Just straight-up value to customers, well, this particular customer. (Mattermark Growth Score metrics have been added and links to their profile on Mattermark for iOS)
Consistent Use
Uber  (Mattermark Growth Score: 44,753) —  I'll admit it. I didn't have Chris Sacca's vision, and I was not the earliest of adopters here (my skepticism came from the higher pricing which has since been dramatically lowered). But since that first trip I took about 18 months ago, Uber has become an integral part of my life as a New Yorker. I'm still a subway rider, so only take about 25 Ubers a month, but I probably won't own a car as long as I live in the city.
Seamless  (Mattermark Growth Score: 33) —  Every single day (helped by our corporate lunch program), and pretty self-explanatory. The more interesting note here is that none of the competitors (Postmates, UberEats, Munchery, etc) have been compelling enough for me to use more than once or twice.
Zeel  (Mattermark Growth Score: 186) —  Yes, we're investors. But I also pay full-price. I was never a "massage-guy," only splurging on vacation or when staying at a nice hotel. Now, Zeel is an integral part of my life, as the on-demand-when-pain-strikes component is underestimated. My standard Saturday is now 2-hours-of-basketball-followed-by-a-Zeel-massage. Try it once, you'll be hooked.
Minibar  (Mattermark Growth Score: 562) —  Missed this as an investor, still a strong user. My main use case has actually been purchasing a bottle of wine or liquor to bring later that evening to a dinner party. And of course anytime I run low on Macallan 12. Have never tried any of the competitors, as liquor is a commodity and I was always happy w/ Minibar's UI/UX and selection.
Tried and Faded
Handy/Homejoy/Slate  (Mattermark Growth Score: 946, 879, 60) —  Tried 2 of the 3 cleaning services, once each. Neither was a overwhelmingly positive experience. More relevant, I felt no reason to keep this transaction 'on-platform,' and have a great cleaning lady that comes like clockwork every other week.
UberEats  (Mattermark Growth Score: 869) —  I had such high hopes, so I gave it multiple chances when temporarily relocating the Corigin Ventures team to WeWork Gramercy. But it missed the mark pretty much every time. Mediocre food, weak selection, and poor packaging. And not telling me you're sold out of free banana pudding when that's the only reason I ordered the cuban sandwich? Blasphemy.
Instacart  (Mattermark Growth Score: 3,235) —  0 for 2. First time took over 2.5 hours. Gave another chance, and they missed multiple items in the order, and another was melted by time of arrival. From what I hear, this was not a unique experience, and they still have some core competencies to work on.
Shyp  (Mattermark Growth Score: 1,086) —  I used it once, and my wife used it a few times (typically for returns), but I just don't mail physical things that often, and most companies are now making returns quite simple with return labels. Also, don't sleep on the USPS, they actually offer many of the same features as Shyp for free.
TheBouqs/UrbanStems  (Mattermark Growth Score: 699, 283) —  Tried each once, never again. My wife literally held up the bouquet and asked "this is it?". Paid 4x what I could get at a local bodega, and it was half the size.
Haven't Tried (Yet)
FlyCleaners/Washio/Cleanly   (Mattermark Growth Score: 314, 539, 344) —  I've always lived in a building with a concierge/valet, or had my cleaning lady do my laundry. But I get it. Laundry is a huge time suck so overpaying a little for the added convenience makes sense.
Luxe/Zirx/Caarbon  (Mattermark Growth Score: 1,619, 561, 21) —  I don't have a car, so don't have much of a need for on-demand valet parking. But I have been temporarily commuting from NJ the last 6 weeks and have driven my parents car in quite a number of times. But still haven't felt the need to download any of the apps and give a try. I've always known where I was going, so using "Best Parking" app always did the trick at a much lower cost.
Priv/Shortcut  (Mattermark Growth Score: 53, -58) —  On-demand haircuts. Not sure I really get it. Seems like something I can schedule out later in the week. There's been a few occasions where I had a free afternoon, said to myself "may as well get that overdue haircut," and I didn't have much trouble booking something that afternoon. I also have concerns that if I found someone I really liked and trusted, I'd take it off platform as the provider is more important than the time.
Wag/Swifto  (Mattermark Growth Score: 573, 26) —  My dog is part of my family, and I've always had a dog-walker to take Kylie out mid-day, so presumably I'm the target market. But similar to a cleaning lady, once I find someone I trust, I'm sticking with him/her. My offline guy runs a solid business, and always has a back-up if he's unavailable. Not sure the notification that my dog made a real life poop-emoji makes a difference here.
I'll probably give most of the players in the last section a try, if even just to get a pulse of what's going on in this sector. And many of these companies are moving so fast that new features, markets, experiences will get me to give a 2nd chance to the ones that have yet to impress. But as new entrants pop up seemingly every few weeks, the bar is set pretty high, and true value needs to be delivered to make a lasting impression and become an integral part of my life (or my homescreen).
Discover New On-Demand Startups
Learn About Mattermark's New "On-Demand" Company Search Filter
---
This is a guest post by David Goldberg, Principal at Corigin Ventures, seed-stage investors in tech-enabled consumer and real estate startups . You can follow up with him about on-demand startups on Twitter, via email, or on his blog.