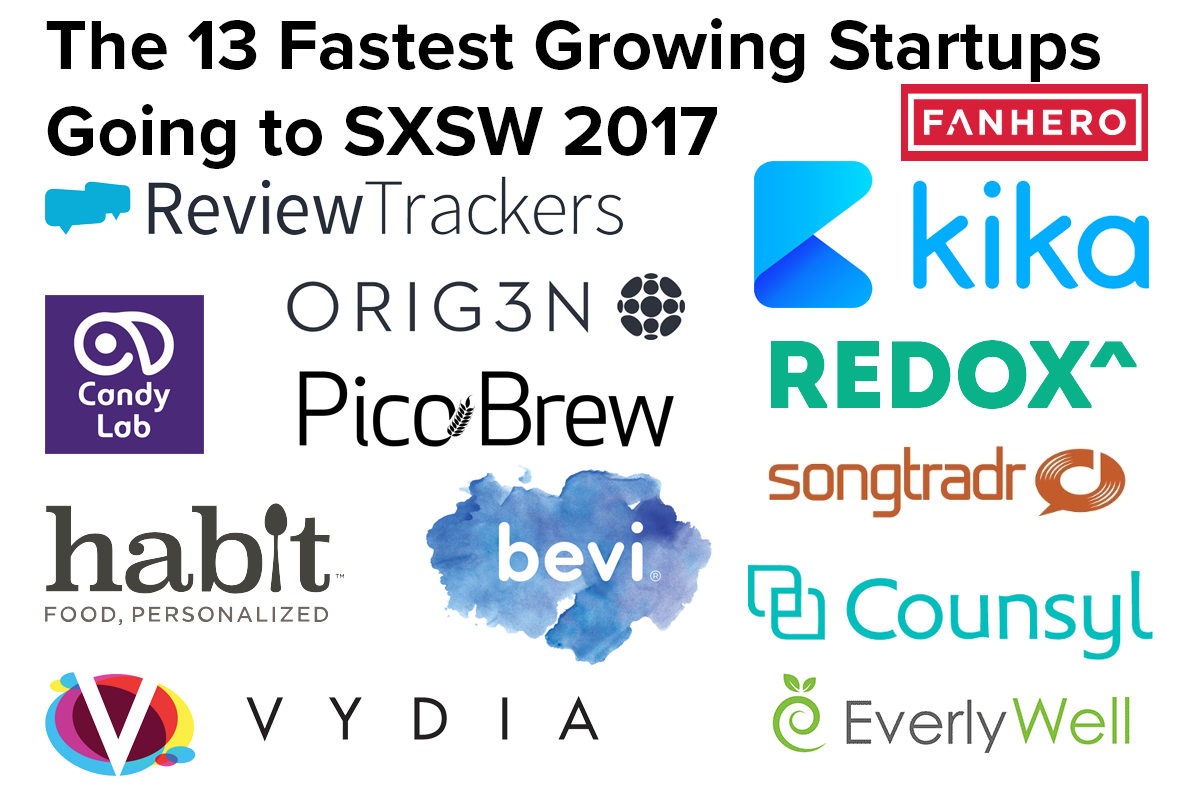 South by Southwest (SXSW) is right around the corner, so we created a Public List in Mattermark to help you prepare who to talk to while you're there. We found 247 companies that will be represented at SXSW this year and below are the 13 fastest growing ones that are not public or acquired and have raised less than $100 million in funding. We used the Mattermark Growth Score to rank all 247 companies. The Public List in Mattermark provides each company's Growth Score, Mindshare Score, URL, location, total funding, all investors, employee count, employee count month-over-month change, current funding stage, location, estimated monthly uniques, and last funding date. Below are the top 13 on the list.
Side note: I recommend going through the list of companies below, digging deeper with the full list in Mattermark, then reading Danielle Morrill's post with tactics and strategies on how to hustle SXSW for fun and profit.
---
Want to see 247 more companies going to SXSW?

---
Look For These Startups at SXSW 2017
1. Songtradr (Mattermark Growth Score: 926) – Songtradr is the fastest growing music licensing platform in the world, delivering brands, apps, TV and filmmakers amazing commercial music directly from artists, songwriters and catalogs.
2. Counsyl (Mattermark Growth Score: 803) – Counsyl is a health technology company that offers DNA screening for men, women, and their children.
3. Vydia (Mattermark Growth Score: 769) – Vydia is a music video marketplace that help artists of all levels monetize and distribute their visual content in one easy to use platform.
4. PicoBrew (Mattermark Growth Score: 615) – PicoBrew is dedicated to technology for home craft beer creation and enjoyment.
5. Kika Tech (Mattermark Growth Score: 404) – Kika Tech works on innovative technologies to support human expression powered by machine learning through next-generation keyboard applications.
6. Habit (Mattermark Growth Score: 376) – Habit is a science-based, personalized nutrition solution, working with nutrition coaches and meal delivery services.
7. Orig3n (Mattermark Growth Score: 334) – Orig3n is a biotechnology company developing breakthrough treatments for rare genetically inherited diseases with targets in heart, liver and neurodegenerative indications.
8. Bevi (Mattermark Growth Score: 228) – The Bevi is a smart water cooler that helps you create your own flavored and sparkling drinks.
9. FanHero (Mattermark Growth Score: 198) – FanHero creates personalized white label apps with a powerful engagement and business intelligence platform which helps influencers and organizations reach and monetize 100% of their audience.
10. Redox (Mattermark Growth Score: 135) – Redox simplifies healthcare integration and facilitates sophisticated data exchange between apps, health systems, and payers.
11. ReviewTrackers (Mattermark Growth Score: 134) – ReviewTrackers is online review management software that provides tools for business reviews.
12. Candy Lab (Mattermark Growth Score: 119) – Candy Lab's Location-Based Augmented Reality Content Management And Delivery System – Candy B.A.R. – makes it simple to use new technologies like Augmented Reality to drive engagement & sales for promotional campaigns.
13. EverlyWell (Mattermark Growth Score: 91) -EverlyWell provides at-home health tests that you can order directly through their website.
---
Want to see 247 more companies going to SXSW?

---
Have a Mattermark account? Sign in to see the complete list.
---
Also published on Medium.