Say goodbye to manual data entry.
With just a few mouse clicks, Mattermark will speed up your organization's deal sourcing process by updating accounts or leads in Salesforce with funding amounts, company stage, employee count, and other valuable data on over 1 million high-growth companies.
How to Sync Salesforce to Mattermark
Start off by signing into your Salesforce account, then visit the Salesforce settings page in Mattermark via the dropdown menu which populates after clicking on the avatar in the right-hand corner of our app. You can also integrate Salesforce from any company page in Mattermark.
For this tutorial, we'll reference how to integrate from Mattermark's own company page. In the Quick Facts section on the right side of the page, you'll see a Salesforce dropdown menu. Click on it, and then click on "Sync to Salesforce."
After clicking this, Salesforce will ask you to confirm. Allowing Mattermark to sync to your Salesforce accounts creates a one-way stream: We only provide — and never take — account data.
Click "Allow" to sync. You'll be taken to a confirmation page which says, "Salesforce successfully added to your Mattermark account." Continuing from this page will bring up Mattermark's Salesforce settings page, where you will be asked to map Mattermark's data fields to Salesforce's data fields.
Use the dropdown menu on the settings page to select which Salesforce fields you want populated with Mattermark information, then click "Add." Next, choose which Mattermark fields will map to your choices. Continue this process until you've completed the items you'd like to map and click "Save."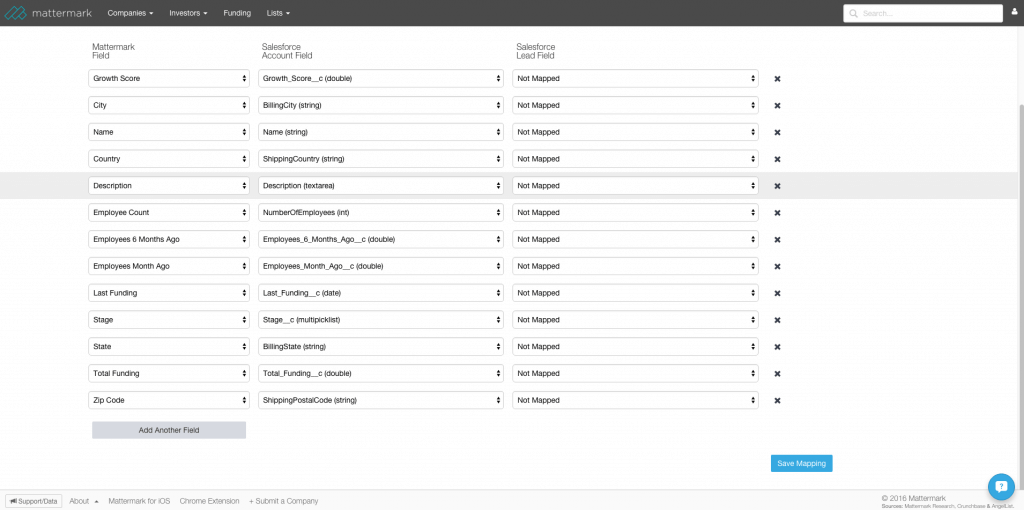 These are the Mattermark fields you can currently sync either to existing fields in your Salesforce installation or to new custom fields you create to hold this information:
You may edit your choices on the settings page whenever you need. To access the Salesforce settings page in Mattermark, click on the user avatar in the right-hand corner.
Adding & Updating Mattermark Companies in Salesforce
All Team plans offer the option to bulk sync Mattermark's data with your Salesforce accounts and/or leads.
To enable this feature, you must contact your Mattermark account manager. We'll take care of the rest: As long as we can match website information in your contacts with website information in our database, we will continually and automatically update all data you've mapped between Mattermark and Salesforce.
Have more questions about our Salesforce integration? We're happy to walk you through it today.