Mattermark has a large base of seed investors, the FG Angels syndicate backers, and employee shareholders — not to mention advisors, customers, and Friends of the Company. With so many people helping us get to where we are today it is important that we keep them in the loop, and today I'm proud to share our progress with the broader Mattermark community and the public. Also, we're hiring!
---
Dear Mattermark Investors,
Today marks 2 years since our re-launch as Mattermark! some of you have been investors from the very beginning (3+ years ago as Referly) and some from the FG Angels syndicate and Foundry Group are coming up on 1 year. Altogether, ourinvestor base is so large that this email now goes to more than 200 individuals! Raising money in the piecemeal way we did wasn't a choice, it was survival, and I am so grateful to each and every one of you.
I remember every check, every handshake. Thank you.
These past 6 months I have experienced something incredible: running the company without any focus on fundraising. It's difficult to even convey how powerful it is to finally be thinking long-term, and I'm looking forward to another quarter focused on building our teams, improving our processes, and serving our customers without worrying about running out of money.
Fred Wilson wrote "What A CEO Does" back in 2010, and I like to use his definition: "A CEO does only three things. Sets the overall vision and strategy of the company and communicates it to all stakeholders. Recruits, hires, and retains the very best talent for the company. Makes sure there is always enough cash in the bank."
I've summarized the highlights (and lowlights) in each of these areas for 2015.
Vision/Strategy Setting & Communication
Recruit/Hires/Retain Talent
Cash In the Bank
The business is on track to financial health and rapid growth, and while I am proud of this I think it is important to acknowledge there are opportunities for me to step up and lead when it comes to communicating our vision and attracting talent. In the coming months I will be sharing more about the way we use machine learning to manage our growing data set, the fascinating technical challenges our distributed crawlers provide, and insights that are emerging from all this information.
The History of Mattermark – in 12 Blog Posts
In celebration of reaching out 2 year anniversary since launch, here are some posts to catch you up on any of the parts of our story you might have missed: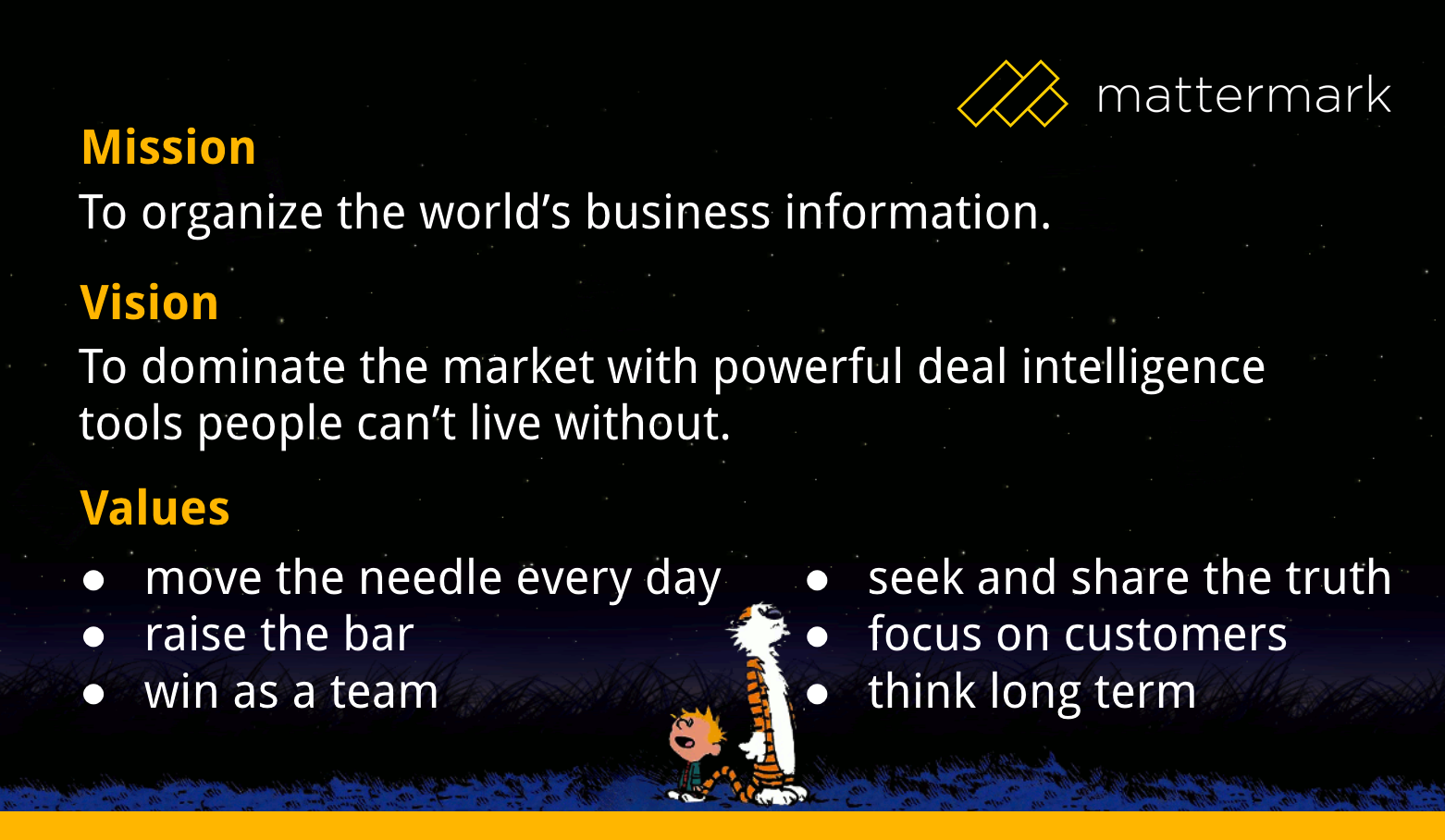 Thank you,
Danielle
Get in touch!
@DanielleMorrill on Twitter