From the Investors
Ben Wiener of Jumpspeed Ventures watches startups achieve product/market fit and still fail in "The Black Hole of 'Meh'"
Rob Go of NextView Ventures recommends, 10/10 times, that founders go for fit over valuation in "Series A Dynamics – Ownership, Timing, and Valuation"
Satya Patel of Homebrew shows his cards on the attributes Homebrew looks for when they invest in "Homebrew's Investment Interests: Vertical Software"
Marc Andreessen of Andreessen Horowitz sits down with Russ Roberts for an hour-long podcast to discuss the dynamic innovation shift towards software, as well as his enthusiasm for bitcoin, his optimism towards the future of journalism, and the singularity, in "Marc Andreessen on Venture Capital and the Digital Future"
Arteen Arabshahi of Karlin Ventures takes first-year startups through the stages of hiring, focusing on getting to "the next 'time extension' point," in "Strategic Planning for Startups"
Fred Wilson of Union Square Ventures believes that the next big gains in technology will not come from hardware, but rather from machine learning and collective intelligence, in "Devices vs Cloud"
Thomaz Tunguz of Redpoint Ventures awaits the simplicity of anticipatory computing in "What's Wrong With the Internet of Things"
Joshua Henderson of Springboard Enterprises navigates founders around the most common pitfalls in "Five Things You Shouldn't Forget When Pitching Investors"
From the Operators
Ryan Caldbeck of CircleUp builds trust with customers and partners in "Why Startups Should Still Care About Things That Don't Scale"
Julie Zhuo of Facebook shows why frameworks are better than answers for peacetime companies in "Managing with Martians"
People Are Talking About: Dropbox Acquiring Bubbli 
Okay, not yet. But that's because we got the scoop straight to our inbox.
Before we sent tonight's Mattermark Daily, we found this piece from TechCrunch that ends with "More to come…" Dropbox Buys Bubbli, Will Integrate Its 3D Photo Tech Into Dropbox's Photo Service
(But Danielle called it roughly six months ago.)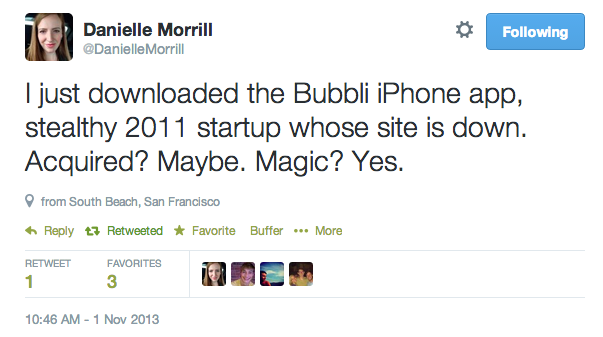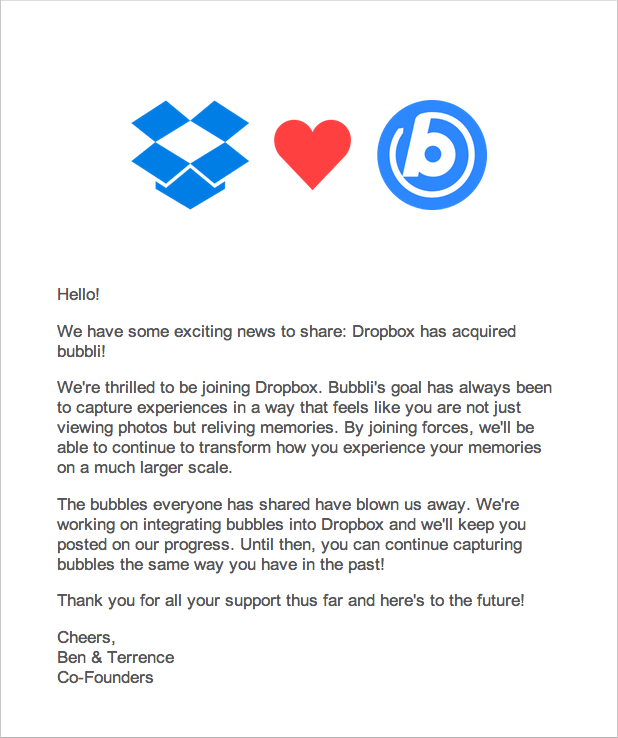 Featured Founder
Mike More of CoPromote. CoPromote's mission is to empower content creators and SMBs by connecting them and enabling them to cross-promote each other easily on the social web.
Mattermark: How did you come up with your startup?
Mike: Prior to launching CoPromote, I was a creator (record producer and songwriter). One of my biggest pain points was "How do I market and promote my music with a limited budget?" In speaking with my fellow creators, I realized that cross-promotion was very effective in the music industry. Think of 50 Cent introducing Eminem, Jay Z and Beyoncé – and don't most great hip-hop records contain a hot collaboration? Sharing great content improves a creator's or SMB's value to their users, and it scales because there are over 100 million creators and SMBs on social platforms with over a billion customers who follow them. What if you connect theses creators and enable them to cross-promote easily? Problem solved!
Mattermark:What is a recent milestone that your team celebrated?
Mike: We increased our user retention rate by over 200% in the last 30 days by listening to our users, making quick decisions, and rolling out new features. We were expecting to see a gain, but no where near 200%. Accomplishing this milestone has created huge forward momentum.
Mattermark:If someone thanked you in a restaurant for creating your startup, what would you hope they say?
Mike: Your company helped me get my voice heard and break through to a new audience.
Mattermark:Tell us about your team.
Mike: We have 12 full-time people on our team with diverse backgrounds – writers, musicians, data scientists. Our favorite office oddball activity is talking about the streets of New York, food, and music. We are currently cold brewing coffee as the weather becomes unbearably hot in NYC. We are thinking about selling our cold brew to other startups near by. (Blue Bottle, watch out!) We are iterating quickly, and growing rapidly. Please find a link here to our jobs page. If you are awesome, hit us up!