From the Investors
Fred Wilson of Union Square Ventures explains that losing money is part of being an investor and summarizes the things you can do to manage your losses in "Losing Money"
David Cheng of DCM Ventures expands on their investment in x.ai, what led to it, and the pain the company is solving in "Onwards, To a World of Painless Meeting Scheduling!"
Adam Besvinick of Deep Fork Capital discusses why he is bullish on the Los Angeles startup ecosystem in "Way More Parties in LA"
Ezra Galston of Chicago Ventures addresses the debate amongst venture capitalists over whether to prioritize markets or people in investment decision-making in "Ideas Matter"
Josh Hannah of Matrix Partners offers guidance on how to create a great team slide for your pitch deck and walks through real examples to offer clarification in "The Team Slide: You Had Me at Hello"
Ted Serbinski of Techstars talks about how he defines mobility and its relation to the automotive industry in "Defining Mobility"
From the Operators
Andrew Tate of InsightSquared outlines the importance of setting up a disqualification process within your sales and marketing team that makes sure everyone wins in "The Importance of Disqualifying Leads"
Amrit Richmond of CMYK Ventures shares the building blocks of a global strategy for your startup, brand, or project in "Think Local, Act Global: Marketing Strategies for Expanding Your Startup Around the World"
Christian Limon, formerly of Glu Mobile addresses the reasons why live-streaming has failed to explode into mainstream use despite being one of the hottest recent trends in "The Live-Streaming Paradox: 6 Pitfalls Blocking Network Effects"
Peter Szymanski of Silicon Valley Counsel describes the stop and go pace of the IPO process and things to plan for in "IPO Process + Planning: Key Takeaways from the 2016 IPO Drought"
Jon Westenberg of Creatomic gives his take on why he believes the best founders have learned how to be employees first in "Learn Before You Start Up"
Where To Raise Money This Year (And Where You Should Have Raised Last Year)
Now that the first quarter is behind us, Mattermark Contributor Jason Rowley dug into the data to find the best places to raise money right now that aren't Silicon Valley.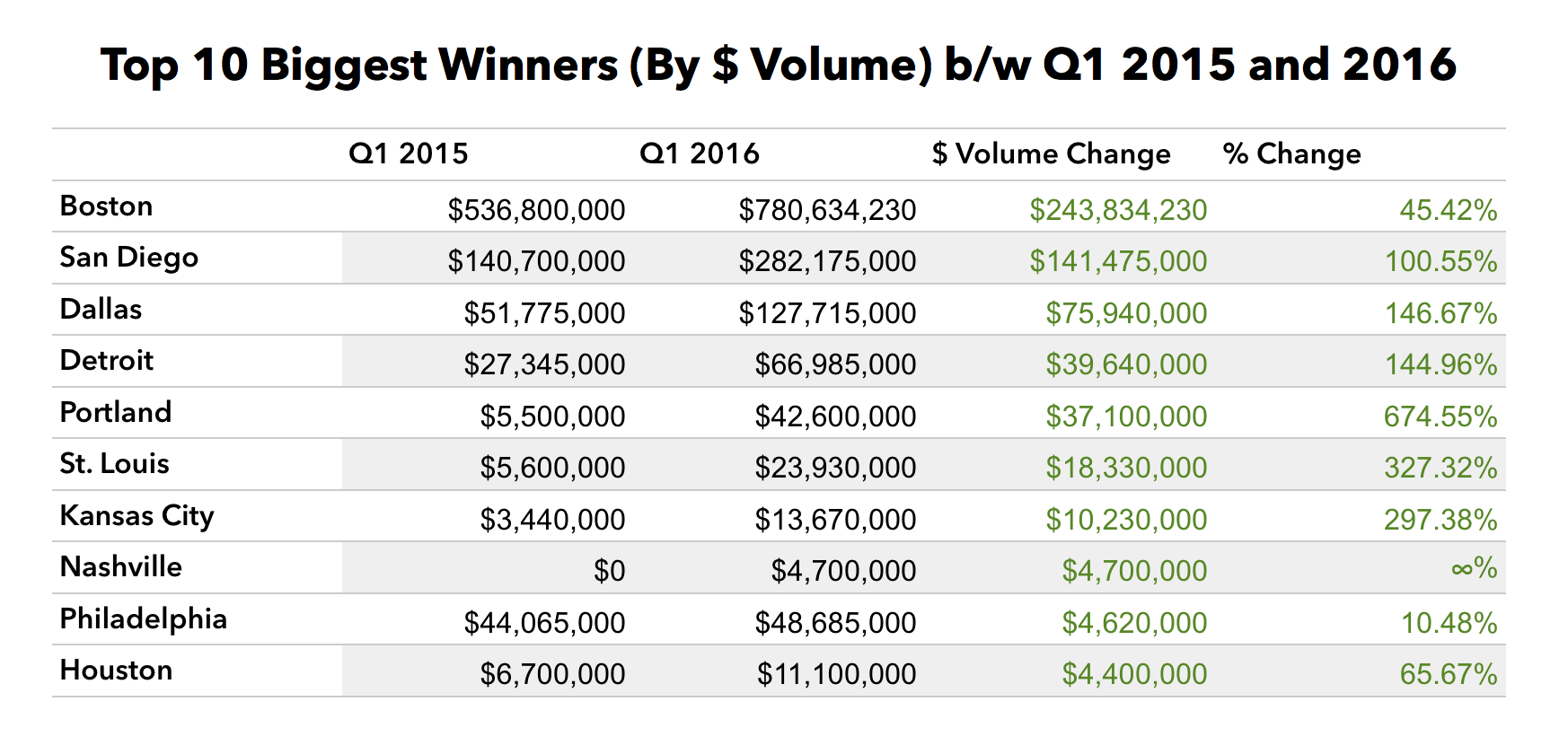 500 Startups Demo Day (Investors Only)
Join 500 Startups for a day of pitching & networking at their upcoming Demo Day, a private viewing of their latest accelerator startups and hottest ​Series A portfolio companies. Register Here
Join

thousands of business professionals

reading the

Mattermark Daily newsletter.

A daily digest of timely, must-read

posts by investors and operators.