From the Investors
The GSV Team unveiled their annual list of the most dynamic private companies with the potential to become $1 billion value companies. Investor sentiment ebbs and flows but enduring companies will continue to be built in "Trailblazing the Global Silicon Valley"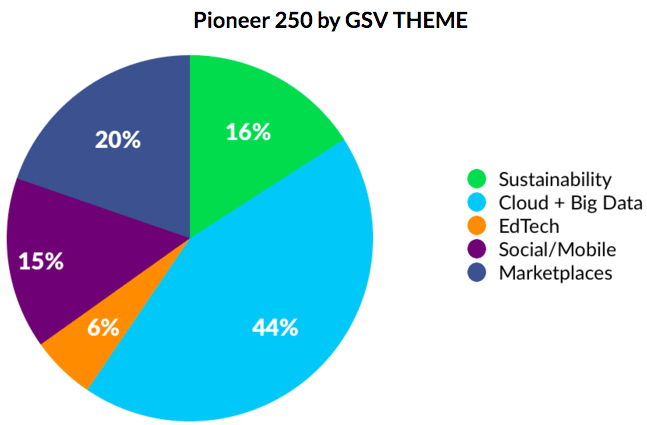 Chris Dixon of Andreessen Horowitz believes cheap embedded processors are going to be built into everything in the coming years in "What's Next in Computing?"
Mark Suster of Upfront Ventures surveys Venture Capitalists and Limited Partners to understand the sectors they find promising in 2016 in "The Full Dataset on What VCs are Thinking About Funding in 2016"
Tim Draper of DFJ & Draper Associates discusses investing in Tesla, the best pitch he has ever seen and the evolution of venture and startups in "20VC: Tim Draper" (podcast)
Alida Miranda-Wolff and John Hoesley of The PrivateBank delve into how venture debt has changed over time, and how those changes may benefit entrepreneurs at the right stage in "How to Seal a Venture Debt Deal."
Nisa Amoils of New York Angels notes that 'Frontier Tech' startups have raised $3.2 billion since 2014 and dives into why that won't slow down anytime soon in "Why Investing in Disruptive (Frontier) Tech is Your Best Hedge"
Victor Gutwein of M25 Group explains the subjectivity involved in funding seed-stage startups after they've reached the "investable" hurdle in "Sorting the Investable from the Detestable"
From the Operators
Aaron Duck of Sales Hacker encourages sales leaders to inspire their teams by leveraging different approaches that appeal to different values in "6 Unorthodox Ways to Inspire Low-Performing Salespeople"
Tom Ruginis of PerlsteinLab unveils the details of their burn rate metrics from their first year of operations it in "2015 Burn Rate"
Mike McCue of Flipboard describes how to lead by 'first principles' when everything is at stake in "The Most Powerful Lesson I've Ever Learned in Business"
Kirsti Grant of Populate encourages founders to think about the long game when it comes to building a scalable team culture in "Don't Risk Your Culture for Growth"
John Saddington of TOMO reflects on raising venture capital in "The 3 Types of Pitches That You Will Always & Inevitably Give VCs"
@MattermarkDaily (a feed of must-read posts)
Every day, we get pitched and discover 60+ blog posts to consider featuring. To save you time and to keep things concise, many do not get featured. If you're curious to read posts we love, but didn't have room to feature, you can follow @MattermarkDaily on Twitter.
Your Lead Scoring Is Ineffective, But We Can Fix It (read more)
Traditional lead scoring is inefficient in today's economy. Mattermark Marketing VP Dawn Poulos has a few tips to help you boost your lead velocity rate.